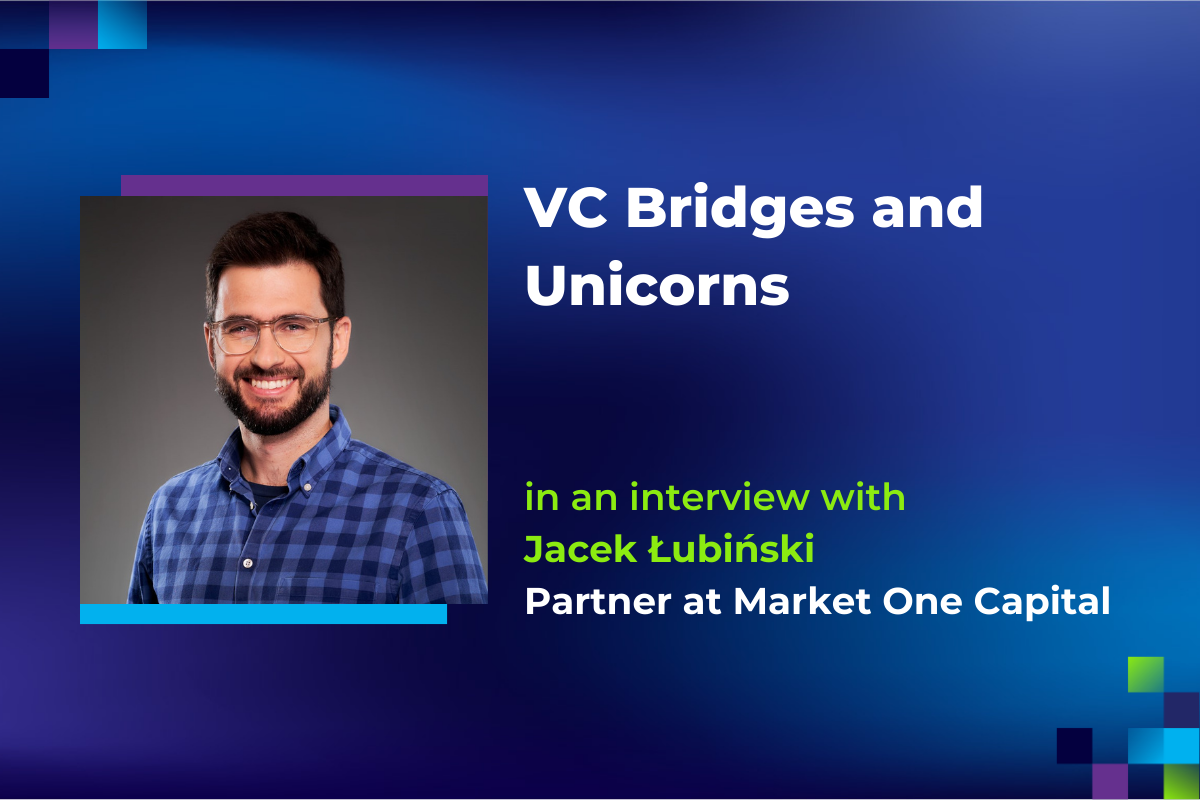 24 July, 2023
VC Bridges & Unicorns
In a realm where technology meets finance, one VC investment professional stands out as a trailblazer. Meet Jacek Lubinski, Partner at Market One Capital, whose fusion of computer science prowess and investment sharpness has propelled him into the forefront of marketplaces and B2B software. With an insatiable curiosity and a knack for identifying game-changing startups, Jacek has become a trusted supporter and sparring partner for numerous portfolio companies. Buckle up as we dive into Jacek's thrilling journey, unraveling the secrets behind marketplaces and B2B software success, bridging the gap between CEE and Western Europe, and uncovering the startup road to unicorn status.
Can you tell us about your journey from computer science to becoming a VC investment professional focused on marketplaces and B2B software? What sparked your interest in this field?
Two things always interested me – technology and finance. After having tried both of these areas separately early in my professional career, around 12 years ago I learned about venture capital as an industry and it seemed like a perfect fit for me from the very beginning. As marketplaces and software are fundamentals of the online economy, it was natural to tap into these areas early on after switching to VC. Network effects were crucial for many of the large successes of tech companies in the last 25 years, including social networks like Facebook or LinkedIn, as well as platforms and marketplaces like Airbnb, Booking, Uber, OLX, and also the ones we observed more locally like Docplanner, Brainly or Booksy. Next to factors like economies of scale, switching costs, branding, or others, network effects help build defensible, long-lasting, profitable businesses and I decided to specialize in businesses driven by this force. Market One Capital team combines the experience of investing in more than 50 platforms and marketplaces.
With your experience analyzing thousands of startups, what are some key factors or qualities you look for when evaluating a potential investment opportunity in the marketplace or B2B software sector?
After passing our cut-off investment criteria like stage, geography, round size, or network effects potential, the most important factors when assessing investment opportunities are team, product, and market. As we are investing in the earliest stages like pre-seed and seed, Founders are always super important. We look at their experience, life story, skills, personality, and dynamics between team members. Product evaluation depends on the stage as we also invest at the pre-product stage. But we always try to understand and evaluate the underlying value proposition and product-market fit signals and potential. With regard to the market, the most important aspects are market size, structure, fragmentation, trends, key external forces as well as the competitive landscape.
Building bridges between Central and Eastern Europe with Western Europe is one of your areas of expertise. What are some unique opportunities and challenges that arise when connecting these two regions in terms of startups and innovation?
Europe, as an innovation ecosystem, is much more fragmented and diverse than the United States for example. Each major European city already is or is becoming a tech innovation hub. As Western European countries are more affluent, have a longer history of capitalism and modern democracy as well as VC investment per capita is at much higher levels over there compared to CEE, it's natural that the vast majority of the biggest success stories among tech startups in Europe or from this region. By actively investing in both Western Europe and CEE, we connect people and organizations from both parts of the continent, facilitating exchange of know-how and experience. We see tremendous opportunities by sharing expertise, capital, scaling opportunities, networks, and pools of talent between CEE and Western Europe. Ultimately this increased connectedness will enhance Europe's position in tech innovation globally and that is something we are super excited about.
Marketplaces and platforms have been gaining significant traction in recent years. What do you believe are the key reasons behind their success, and what advice do you have for entrepreneurs looking to create successful marketplaces in today's competitive landscape?
Marketplaces and platforms are super difficult to kick start and build initial liquidity, but network effects help them scale and build defensibility. Allegro is a good example. The liquidity and GMV they have built and aggregating so many of the suppliers and buyers meant that they were able to keep the leading position even after eBay, Shopee, and Amazon launched in Poland. In many cases building liquidity is also connected or constrained to a particular geography, which means that you can build a great business even without being the leader in some of the biggest regions or cities. Categories like ride-hailing or food ordering or an example here.
The startup journey from seed stage to unicorn is filled with ups and downs. Based on your experience, what are some common challenges that startups face as they scale, and how can they overcome them to achieve unicorn status?
It's important to remember that building a successful tech business from scratch is always blood, sweat, and tears. Every unicorn had some dark moments. The challenges when scaling comes in various shapes and forms, but some of the most common ones include:
hiring and retaining great senior talent for an organization that is constantly changing, 

transitioning the processes to more structured and scalable ones while still moving fast and not introducing too much complexity and bureaucracy

stepping up their game in managing finances

competing against established players and other rapidly growing scaleups in an increasingly competitive environment once the market becomes more saturated.
As an investor, you've been involved in more than 40 startup investments. Can you share a success story from your portfolio and highlight some key factors that contributed to its success?
TIER Mobility is a great example here of a company that was in line with an internal investment thesis we had at MOC, which was that part of inner city transport had to become more green and lightweight and that this market opportunity would be enormous. Back when we decided to invest they were active in one city and were launching the second one. We were super impressed by the Founders. Lawrence Leuschner previously founded rebuy.com, a leading platform giving products second life after repair and refurbishment, so he had important hardware expertise. He is a big advocate of climate change and changing mobility for good with TIER is his big mission. Matthias Laug, his Co-Founder at TIER, was previously CTO at Lieferando and later at Takeaway.com. TIER's success, fueled by large amounts of funding which enabled their investment into growth, would not have been possible without a super-strong Founding team. Also, Europe, with its densely populated cities and good infrastructure for bikes, seemed like the best place for e-scooters and e-bikes. And naturally, Germany, where TIER was the first mover, with its 80 million population and great infrastructure, was the most interesting market to grab on the continent. TIER capitalized on this opportunity very well. They are also very cooperative with public policymakers and authorities in the cities. They treat their offering as part of a broader multi-modal solution that also integrates public transport. Next to stellar execution, these are some of the most important contributing factors to TIER's current leading position in the market – which includes a footprint in more than 500 cities and communities in more than 20 countries globally.
You mentioned your interest in crypto. How do you see cryptocurrencies and blockchain technology impacting the future of marketplaces and B2B software? Are there any specific trends or developments that you find particularly exciting in this space?
Web3 holds the promise of building the next generation of the Internet which brings back power from centralized platforms towards users who form these networks and contribute to their value. This grand vision is not easy to implement in reality as of today; these centralized platforms bring a lot of benefits to the users which are not easy to deliver in a decentralized environment or through DAOs. Nevertheless, there is something in it and crypto is one of the technologies which should be considered by platforms and marketplaces for building better incentives with users or helping solve some of the marketplace-specific challenges like solving the chicken-egg problem or building initial liquidity. Many crypto projects also have strong network effects potential. The most interesting segments within web3 for me as of today are crypto infrastructure, especially around fintech, decentralized social networks, and crypto talent marketplaces.
Meet Jacek at How to Web Conference 2023 🚀
Are you ready to unlock the untapped potential of marketplaces and B2B software? Join us at How to Web Conference 2023 to meet Jacek Lubinski! 
2
You may also like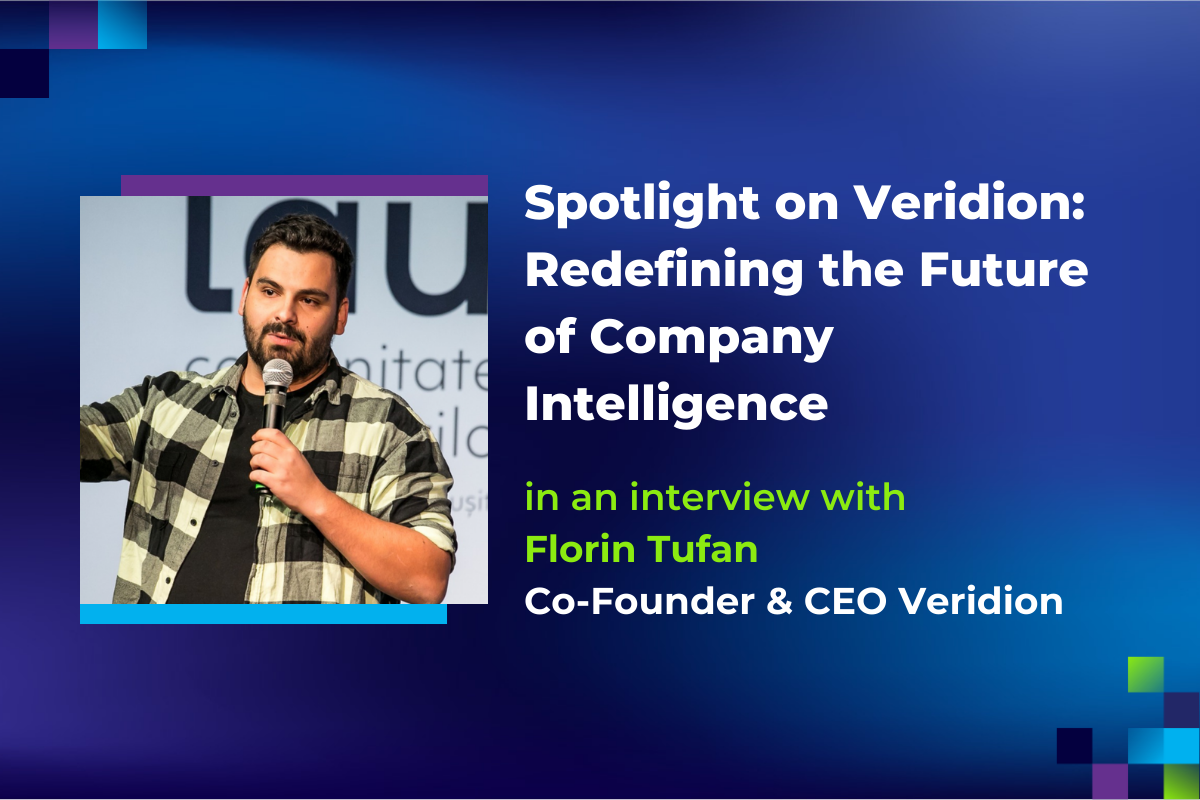 In a realm where technology meets finance, one VC investment professional stands out as a trailblazer. Meet Jacek Lubinski, Partner at Market One Capital, whose fusion of computer science prowess and investment sharpness has propelled him into the forefront of marketplaces and B2B software. With an insatiable curiosity and a knack for identifying game-changing startups,… Read more »
2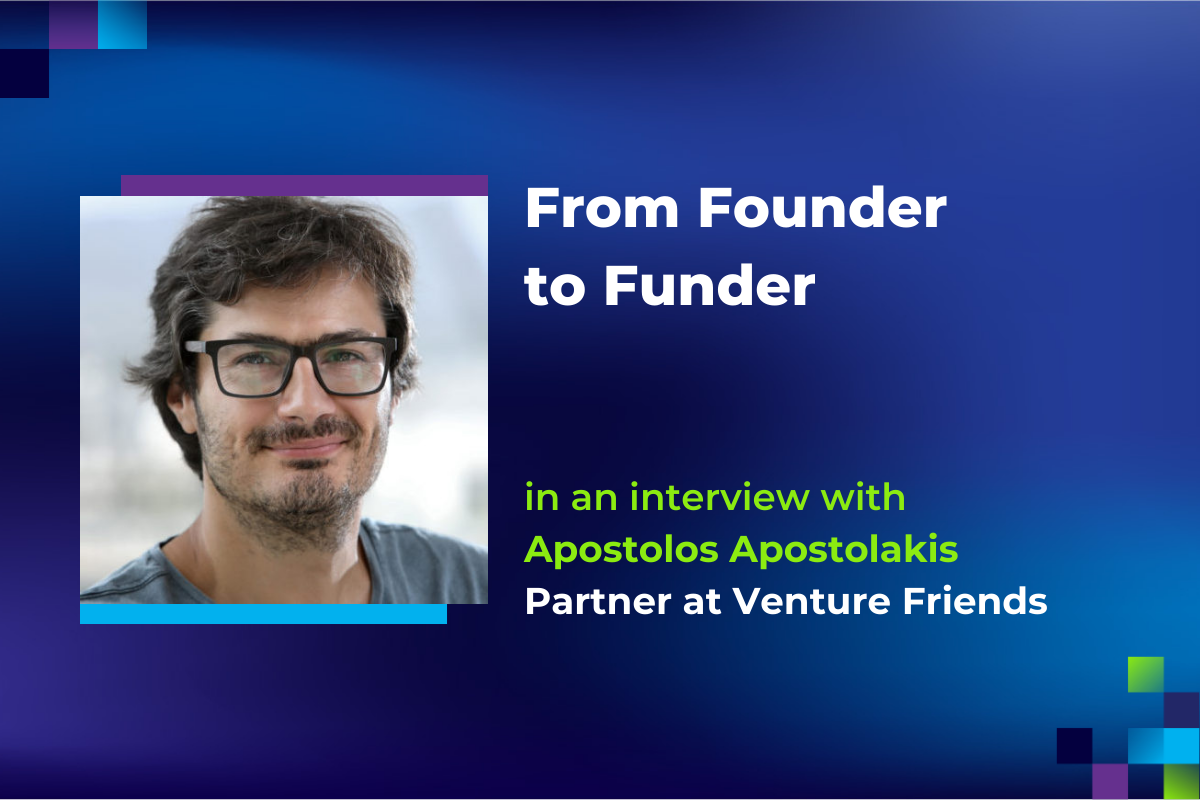 In a realm where technology meets finance, one VC investment professional stands out as a trailblazer. Meet Jacek Lubinski, Partner at Market One Capital, whose fusion of computer science prowess and investment sharpness has propelled him into the forefront of marketplaces and B2B software. With an insatiable curiosity and a knack for identifying game-changing startups,… Read more »
2