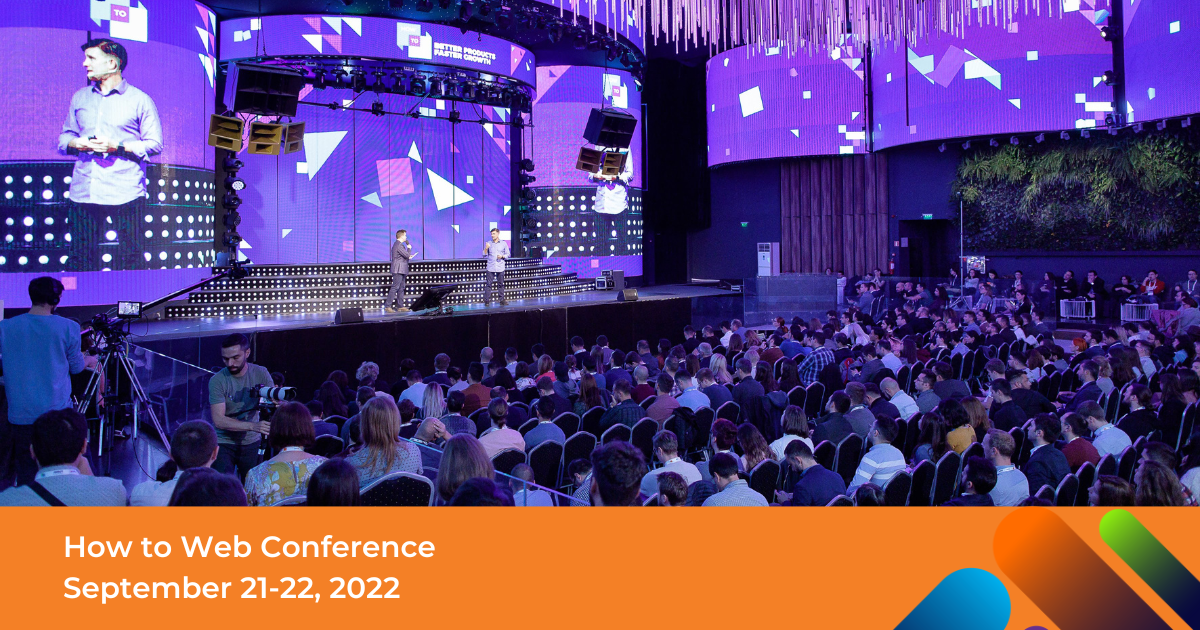 15 September, 2022
How to Web 2022: last days to join the leading startup & innovation conference in Eastern Europe
All the innovation, technology, and business growth enthusiasts are awaited at the 11th edition of How to Web, the conference that has made a strong comeback after a pandemic break.
On September 21 and 22, at Face Convention Center Bucharest, 2,000 participants from Eastern Europe will meet at How to Web 2022, an event that will mark an important step for those who want to access exclusive business opportunities, connect with like-minded entrepreneurs, marketers, investors or team managers and meet the experts who have made history through their pioneering work methodologies, books or results in the industry.
The How to Web conference offers a complete experience to attendees, with dedicated meeting areas, four stages with industry leaders from around the world, the most intense competition for startups in the region, a dedicated party in collaboration with YouTube Music, and many more.
"Product innovation occurs in stages. There are several elements that make an idea turn into a scalable business, from the moment of launch, the capital attracted, the people in the team, and the project management in general. What excites me is that in recent years the ecosystem in Southeast Europe is undergoing accelerated development. There are more and more opportunities for mentoring, practice, and attracting funding for projects in IT, agriculture, e-health, and even the high-precision industry.
All this effervescence of product development initiatives, testing of new business models, and transformation into scalable businesses, are the basis of the formation of a dynamic entrepreneurial community, with unlimited opportunities, according to the human talent of our region." Lavinia Neagoe, Bucharest Technology Site Lead at Google
The Complete Conference Agenda
The agenda is complete and showcases over 70 industry leaders, many of them for the first time in Romania. Bruce McCarthy, James Mayes, Alexandra Lung, and Matt Lerner are just a few examples of experts who have managed to propel global companies to success and will share their best practices this month, in Bucharest.
The How to Web agenda is mainly inspired by the startup culture, which is based on rapid and efficient decisions for businesses and the methods by which we can bring transformative results in the shortest time. Therefore, the topics will gravitate around this startup culture, putting the light on building high-performing teams, product development, marketing and growth, or the future of innovation.
The speakers' line-up includes:
Julia Steier, Product Manager at Google

Mick Halsband, Founder of Lunar Ventures 

Bogdan Ripa, VP of Product at UiPath

Ivan Burazin, Chief Developer Experience Officer at Infobip

Martin Olczyk, Managing Director at Techstars

Sultan Seitbekov, Lead Product Manager at Miro

Christoph Auer-Welsbach, Founder of Kaizo

Ivan Kovalov, VP of Product at Payhawk

Valentin Radu, Founder & CEO at Omniconvert

Carlos Espinal, Managing Partner at Seedcamp
The complete list and agenda of the conference can be visited on the dedicated page: https://www.howtoweb.co/agenda/
The Most Intense Competition for Startups in Eastern Europe
Following the annual tradition, the How to Web conference cannot take place without the competition dedicated to early-stage startups — Spotlight. Reaching a record award this year, probably the biggest in this region of Europe, the Spotlight competition is a not to be missed chance for founders who want to propel their startups to success.
With more than 100 renowned mentors and investors from Europe, unique opportunities for collaboration and scaling, an investment prize of almost half a million euros, and other surprises for founders from the event's partners, Spotlight participants will be able to enjoy an unforgettable experience in their business life.
Following the evaluation of the investor panel, 40 startups were selected to enter the Spotlight 2022 matchmaking program: 121tribe, Adapta Robotics, Atlas Navi, Avo Cool, Avokaado, Beesers, Bitskout, Bloomcoding, Braight, Clastr, ClientZen, CPV Lab Pro, DEA Medicine, Directimo, dMonitor, Epic Visits, ExigoHealth, Eyelet, Fagura, Getpin, Gorilla Link, GuidefAI, Help2Go, Holoma, Hyperhuman, Hyperjob, INKI.TECH, INPUT SOFT, InRento, Licenseware, LINK, MediNav, NRGI.ai, Palmo, Prime Dash, Proofminder, SOLO, Synaptiq, Vestinda, Virbe and Voxa.
Of these, 20 will be selected as semi-finalists during the conference, entering the race for the grand prize and benefiting from multiple opportunities such as exhibiting the startup in the dedicated pavilion, mentoring sessions, meetings with investors, or other prizes from BRD – Groupe Société Générale or F6S, the platform dedicated to founders.
Last Days to Get Your Ticket
The event takes place between September 21 and 22 in the most modern event space in Romania, Face Convention Center Bucharest. Created to meet the needs of each type of participant, the event will be a complete experience with professional inspiration, business meetings, discovering the latest innovations, or spending quality time with the team or friends.
These are the last days when you can get your ticket and join the leading startup & innovation conference in Eastern Europe: https://www.howtoweb.co/tickets/
The event is created in partnership with Google for Startups, Mastercard Romania, BRD – Groupe Société Générale, Underline Ventures, and Orange Romania, and with the support of UiPath, Bitdefender, eMag Ventures, KPMG Romania, European Innovation Council, Tazz, Mobiversal, Fortech Investments, LAUNCHub Ventures, Endeavor, SeedBlink, Startup Wise Guys, Make IT in Oradea, Rubik Hub, and Vienna Business Agency.
0
You may also like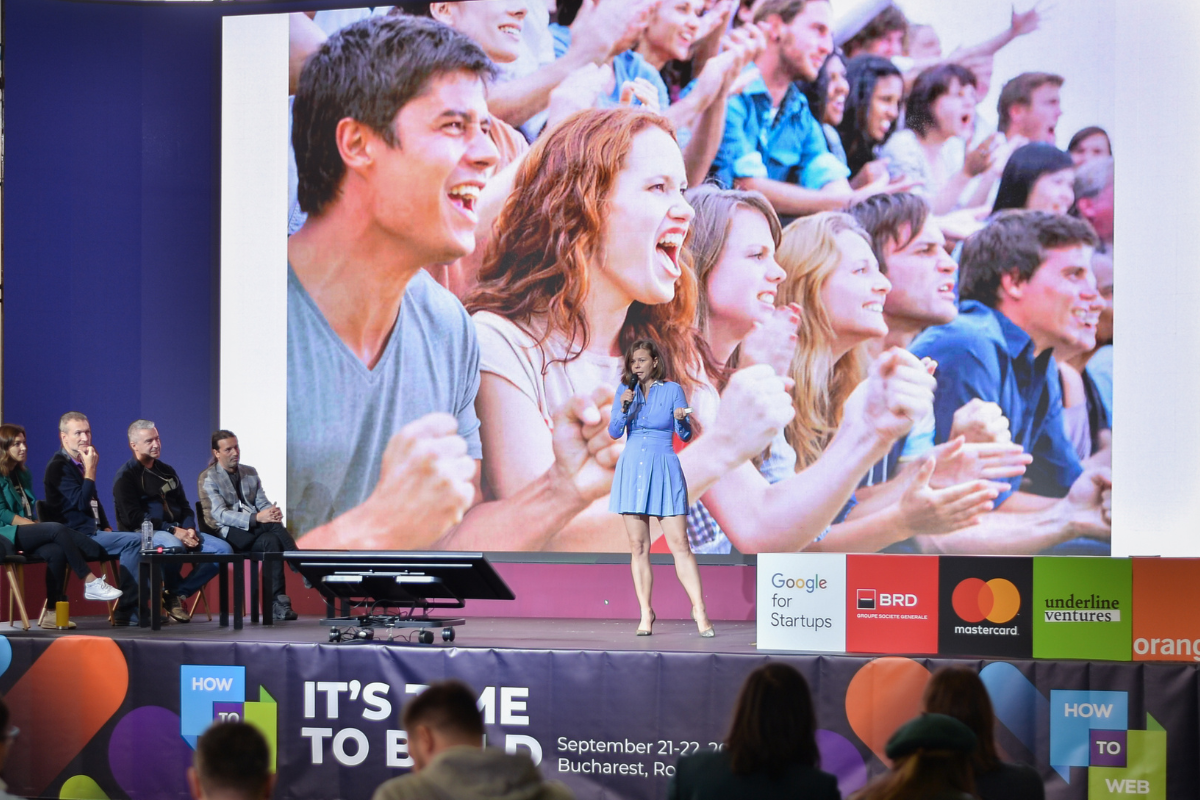 All the innovation, technology, and business growth enthusiasts are awaited at the 11th edition of How to Web, the conference that has made a strong comeback after a pandemic break. On September 21 and 22, at Face Convention Center Bucharest, 2,000 participants from Eastern Europe will meet at How to Web 2022, an event that… Read more »
0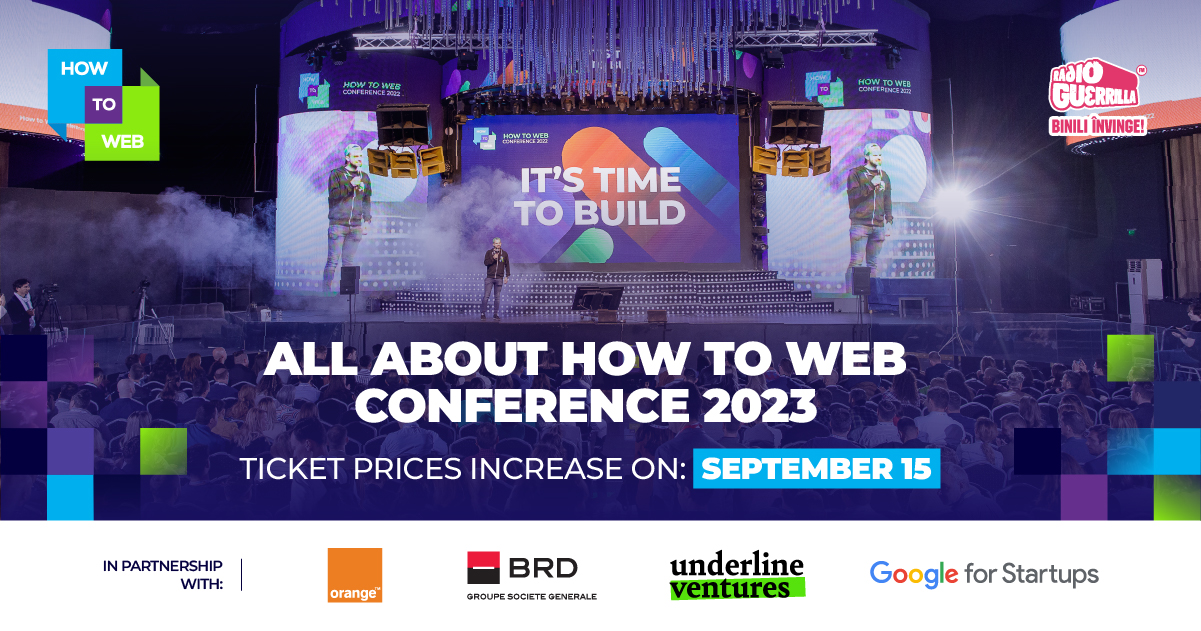 All the innovation, technology, and business growth enthusiasts are awaited at the 11th edition of How to Web, the conference that has made a strong comeback after a pandemic break. On September 21 and 22, at Face Convention Center Bucharest, 2,000 participants from Eastern Europe will meet at How to Web 2022, an event that… Read more »
0