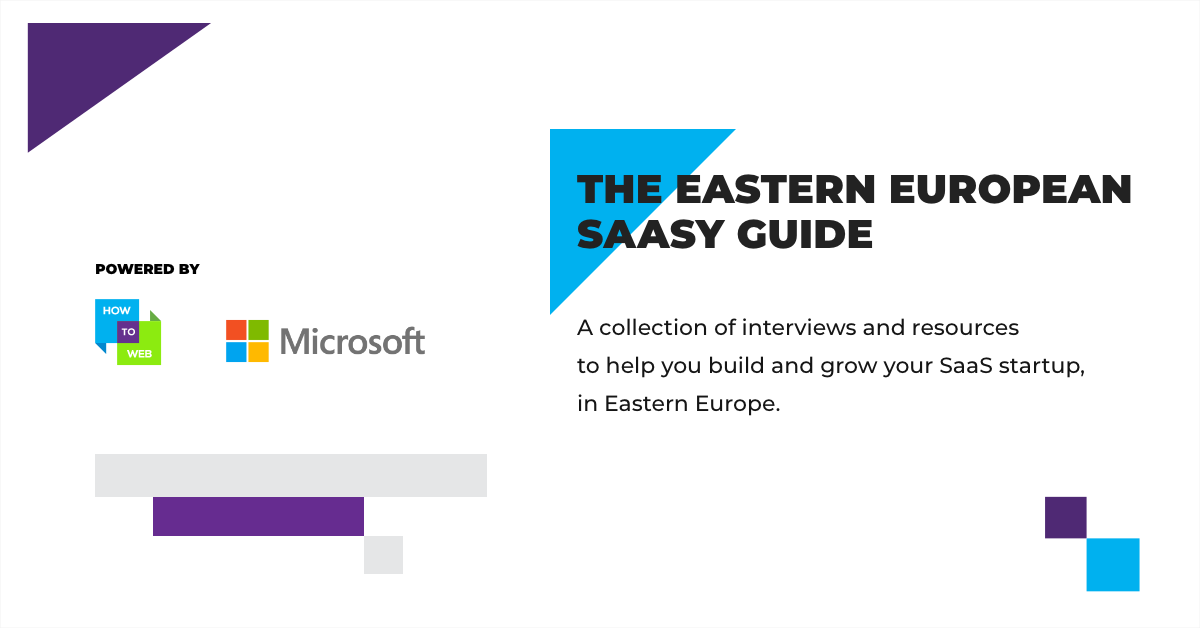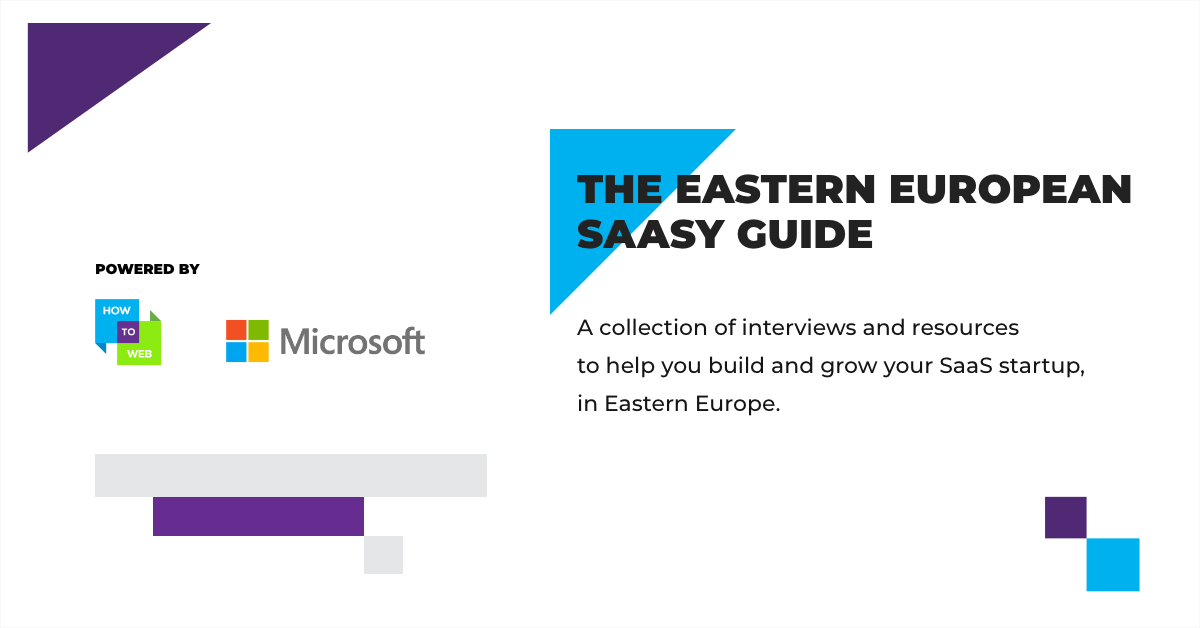 SaaS companies are absolutely everywhere.
If you are a SaaS founder, you can't afford to miss the stories behind some of the most successful startups from Eastern Europe. It might help you skyrocket your growth path. 
Back in 1999, Marc Benioff founded Salesforce – the first pure SaaS superstar. It was absolutely insane at that time to deliver the app purely over the internet. They took the risk and they won. Nowadays, there are 10s of thousands of SaaS companies, and the industry has faced exceptional growth. 
With this in mind, we went on a journey to find out what's happening behind the scenes at the next rising SaaSy startups from Romania and other Eastern European countries. To have a full picture of the landscape, we decided to take a few extra steps and approached other key players, such as specialized VC-funds that invest in startups, accelerators, and corporate startup programs that are looking to help the next SaaS unicorns, and growth experts.
In this SaaSy guide for Eastern European founders you will find the stories of the following founders, their startups, and key industry players:
Adam Somlai-Fischer (co-founder) – sharing the story of Prezi
Hristo Borisov (co-founder & CEO) & the story of Payhawk – the upcoming fintech superstar 
Oliver Auerbach (co-founder) – sharing the story of GloriaFood
Casius Morea (CEO) – sharing the story of EmailTree AI
Alin-Vlad Badilita (Startup Program Manager) – on why Microsoft for Startups is looking to support SaaS startups
Ricardo Sequerra Amram (Partner) – an investor perspective from an experienced VC-fund (Point Nine Capital)
Trevor Hatfield (B2B SaaS Analytics & Product-Led Growth Expert) – with dedicated growth recommendations for founders and startups

….and a small list of recommendations from our guests, alongside other resources to have something to chew on, once you finish this guide.
Now, it's time to embark on the journey, and discover what these founders' stories are all about.
Understand customer behaviour and define your potential growth
In the first part of this guide, you'll find out the story of a well-known startup journey from Eastern Europe, respectively Prezi. Together with Adam Somlai-Fischer, Co-Founder and Innovation Lead at Prezi, we'll explore the main key moments from Prezi's startup journey, what mattered most to them while building their product, and which would be the main key takeaways for you as a founder, to take home, and apply to your startup.
Let's meet Adam!
He is the co-founder of the most popular cloud-based presentation software company, and he is the principal artist that created the very first prezis in early 2000 for his personal projects. He is still a pioneer in visual storytelling and conversational presenting, as he often go back to the roots and plays with Prezi's dashboard.
He always loved presenting ideas visually. As a young upcoming architect, and later as an established artist, life has always driven him to singular moments when he could present to audiences around the globe. From tiny Pecha-Kuchas in Singapore to massive tech events with audiences of many thousands in Europe, it is the very same magic that drove him: how can you go on a journey together, how can you understand something together, and how can you walk away with new ideas and the mindset to change things.
Now, let's dig deeper into Prezi's journey from a small startup to a successful company today.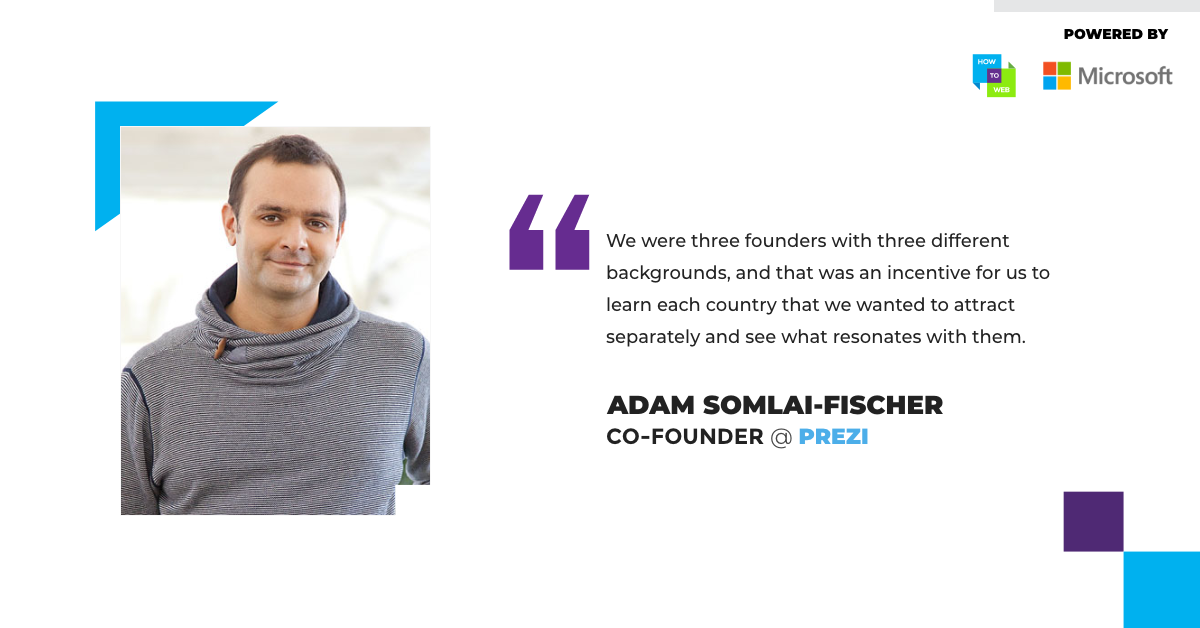 Interview
How did Prezi's customers evolve from 2019 until now? 
It's been such a long time since then and things have changed a lot. We are riding different waves now. We started off by supporting our tiny idea with a very small team by doing good-looking presentations for large shows, such as was the case of the CEO of Telekom. They needed a very good-looking presentation really quickly, and we used that money to pay our developers and build the original product idea.
When we launched our first beta version of Prezi publicly there were two main groups of people that were using it. One was the European tech community, which was familiar with tools from the Web. 2.0 era, tech hipsters if we can call them like that. They started using it because it was new and at the same time, it helped them create good-looking presentations really quickly. At the same time, we saw a really massive product adoption among US teachers. They were the ones that showed us that in order to excel through your career, you need to use the tools of the new media. 
Why? 
Because kids are less and less interested in traditional tools. This made Prezi spread like wildfire. This was a massive growth moment for us, and after that, not only teachers started to use it more and more often, but students followed them too. 
The third wave was through sales and marketing companies, where in many cases they learned about Prezi from their kids when they saw them doing their homeworks in a cool and new environment. This was and still is a funny story for us. And from that moment on it went higher and higher reaching new numbers and new types of audiences.
How did you target a US-based audience, while starting and growing your business in Hungary?
So, there were three of us in the beginning, me (Adam Somlai-Fischer) coming from the creative technology area, then we had Péter Halácsy, who was our CTO, and then Péter Arvai, a Swedish-Hungarian colleague that became our CEO. I started Prezi mostly as a personal and little tool for myself, but Peter Arvai had much more experience in business culture, so suggested that we should try to market it out there. We were three founders with three different backgrounds, and that was an incentive for us to learn each country that we wanted to attract separately and see what resonates with them. Our advantage with Prezi was that we were targeting a massive audience, and had a product that fascinated people from a visual point of view. 
Thanks to Peter's experience, we were able to understand the scale of the market because presentations are taking place anywhere around the world. We thought that if we become successful in Europe, a company and success in US-based countries would follow. However, he helped us understand quite the opposite because US was our primary target market, since there were taking place a significant larger amount of presentations rather than in Europe. There, you hear a presentation if you go to church or to gym, while in Europe you only see presentations only at conferences. This was one of the best decisions for us. 
How to build a strong freemium product positioning?
Another important thing for our growth was how we decided to position our freemium product. We decided that everyone should have access to everything, all the features and functionalities as long as the final presentation stays public on our website. We call this public licensing, and you have to keep the content public. Soon after that, we saw a lot of really good content produced on our website and it began to show up more often in Google search results. This way, we separated business users who had money and would pay for more from organizations such as schools, universities, academic institutions, or NGOs who had fewer funds, but they would be more likely to keep their content publicly and viewed. 
We launched our second product after the acquisition of Infogram which became an embedded part of Prezi, and two years ago, we also published Prezi Video which is a completely new type of presentation. A fun and cool way to mix your presentation with the traditional zoom cool. Now, we are facing the next growing curve led by our new CEO Jim Szafranski where the current market is expanding from teachers, sales, and marketing people to any professional who does remote work. And this is the future for all of us. 
As a startup targeting both B2B and B2C, we are curious to find out which was the right decision when you wanted to build the right pricing for Prezi? Which were the main challenges and how did you overcome them?
Definitely, it's not an easy process and you'll learn a lot. There are different people in our company who understand the single user growth and what you have to do there, compared to the B2B space where there is another type of mechanism. In this area, you have to understand really well the differences between these two spaces. For example, the B2B space where people will always work in teams and synchronize in collaboration at some point vs. the other side of the road where single users have another range of needs. 
The foundation layer for organizations where presentations happen every day, it will always be about teamwork, no matter if you are a single person holding the presentation. While for a teacher or a student preparing his presentation for a homework assignment is always about drafting this presentation in your own time, with your own resources. 
When did you split the clients from B2C to B2B? I mean, I want to understand the moment when you realise that you need more people in your team to specialise them on different markets and on different clients, or was it from the beginning?
When you build an internet product you assume that you'll have users of all sorts, from any part of the world. This is one of the challenges, where you have multiple use cases happening in different industries, but only a few of them are generating the engagement and the traction on which it would be the right thing to build your product, at that moment. However, you don't need to ignore the other uses, but understand what possible markets are untapped, and what type of benefits lies in each one. 
Do you have any advice for founders that are faced with a huge challenge, such as it was for you the moment when you decided it's time for the first investment or to go from Series A to Series B? 
In front of major decisions, my advice for founders is to take a look at their users and try to understand their needs and behaviour as much as they could because this is how you define the potential of your growth. Opening an office in another country or raising an investment means an investment that you'll need to support the processes they require in the long run. When you raise a funding round, you have to believe that by selling a part of your company, you'll get access to experts and connections to the right partners that will take your company to the next level of growth. And be okay with the fact that you couldn't do it otherwise.
Some of these experiences will be great, some of them will be challenging like it's happening with every story. In our case, we were lucky enough to find supportive partners that helped us at any step we made. This is not an easy process.
What was the most difficult moment in Prezi's growth journey?
It's a difficult question because there were many of them. 
I remember a pretty difficult situation from a very early time when under our fifth month our servers went down. We were aware that the company was renting us space from somewhere in Berlin, but apparently, they were lying to us and our servers were in France. All the unfortunate events were a complete mess because all of a sudden all the presentations of our users were gone. And we couldn't get in touch with the server company because they managed to trick us and disappear from the internet overnight. 
At that time, we were in the middle of our early growth days faced with the challenge to decide what to do. No matter how difficult it was, we went back to our users and informed them about what's happening, and that we don't know if we will ever be able to get back their presentations. We learned our lessons, went back to the drawing table, and opted for the most expensive service provider. Users were really supportive of the situation, and luckily for us, one week later we were able to get back their materials. For us, this was an important lesson in our early days, mostly because our users were early adopters, and we could treat them as partners. In case of difficult situations, be honest with your users, be transparent, and they will understand and be supportive, right back for you. 
Several years later, we launched the latest product Prezi Video. It's not a secret that people are still holding presentations, but the challenge comes from listening to how people change their behavior and how they adapt to what's happening around them. With all the pandemic time around, we leaned towards video conferencing more, so it was a normal path to follow and adapt. So far, it has played out really well, but things are changing every day and as a company, you have to keep your eyes open and follow the market trends.     
Which were the top three key moments in Prezi's growth journey?
Definitely, one of them was in our second year, when we received an email from a 70-year old Canadian firefighter that wanted to send a thank-you note to our company where he said that for the first time in many years he felt creative when he built a presentation and shared it with the local firefighters club. Personally to me, this was a moment where I could understand why people use our product at a deeper level, and empathize with our users better. 
Another moment that confirmed to me that we are on a good path was when a student group from Slovakia visited us in our office in Budapest with their teacher because we were very popular among them, and kids showed tremendous love for Prezi. They wanted to visit our office to show us how they broke the system at a local presentation competition because they were forced to use PowerPoint. They took screenshots with elements and animations from Prezi and adapted their PowerPoint to look like a Prezi template even if the end result looked like 1000 pages of material. 
I'm a simple man, all of these moments are coming from users and customers that were empowered by our product. They became a source of inspiration for us to grow even more. 
How was the SaaS landscape back in 2009, and how is it now?
I think that a core thing back then was the fact that we had to learn a lot. We were reading Wikipedia and other pages each day because there was way less information available. One of the most amazing learnings that I have from that period is about the moment when we decided to focus on the American market. 
We went to San Francisco to meet our investors, and the perception back then was that things will be very difficult if you are not one of the locals. We faced a completely different path, where only by the end of the meeting the investors asked where we were, and they relied on the American resources that we can use to grow there. Personally, for me it was a revelation because most startup incubators in Eastern Europe encourage you to go and take all the local resources available, leaving you the impression that other countries will not be so friendly. In our case, America was very friendly and showcased a tremendous amount of support and resources.
However, we speak about different times because now there are more companies around, more money to invest, and industries have a wider complexity. And the huge difference from now and then is that people right now tend to understand better and quicker than before, what you actually do.
Understand where to position your product in front of your customers
In the upcoming chapter, you'll discover another SaaSy startup story coming from the neighborhood, shared by Hristo Borisov, co-founder, and CEO of Payhawk. Hristo co-founded Payhawk together with his teammate, Boyko Karadzhov (CTO) as a platform for payments and expense management. With offices all around Europe and a recent $20M Series A investment, the company went from a 10x growth in a full pandemic year, in 2020 and doubled its revenue in Q1, this year. 
The fundraising will enable Payhawk to further expand its product offering and expand coverage for businesses outside the EU and UK; add new payment products including credit cards, and support additional currencies with industry-leading FX rates. The company will also accelerate its use of AI and machine learning to introduce smart workflows and reduce the need for manual review and approval. 
Now, we'll navigate through the steps that made the biggest impact on Payhawk's growth and what mattered most for their scalability.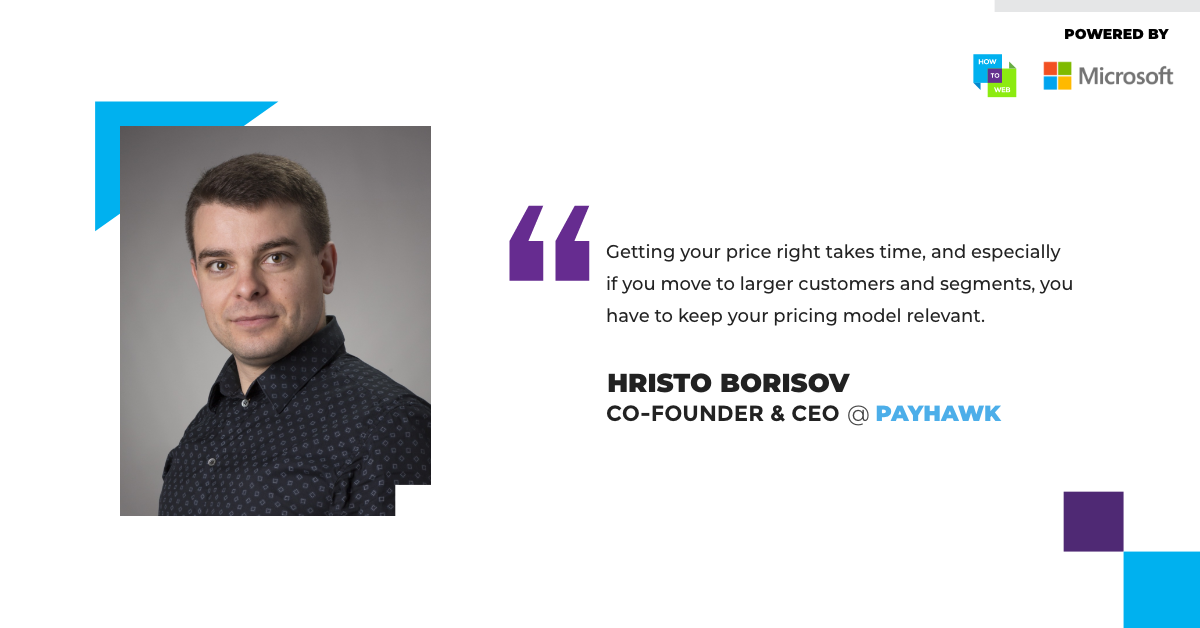 Interview
How did you validate the market need for Payhawk and why build it as a SaaS product?
We started the company with a simple yet difficult idea in mind, that we want to build a company that would be big someday. We built out the prototype during a one-week "sprint" to solve our first hypothesis, and after that spent our next 2 months running interviews and pitching. We ran over 40+ interviews with financial directors and tried to sell it to customers before our engineering team even started to work on the actual product.
How did you decide which is the right pricing model for Payhawk? 
Even though Payhawk is a new type of product with no direct competitors or alternative solutions, our customers were using multiple products to manage their company spends. So they already had some expectations on what/how they need to be charged. We used this as an early guide to understanding how we should position our product. In the course of almost 3 years, we have done more than 25 iterations on our pricing and we continue to do so. 
"Getting your price right takes time, and especially if you move to larger customers and segments, you have to keep your pricing model relevant."
What were the main 3 challenges in the growth process and how did you grow from a few clients to 100+ paying users?
To get the flywheel spinning, you have to get many things right. Initially, growth is painful, and the key is to try to focus your efforts around use cases that are much more likely to convert rather than to spread yourself too thin. 
This is one of the reasons why I was involved in closing the first 10 customers personally, and only after that I hired a team to close the first 100 customers and helped them build a process and make selling repeatable.
Which are the key metrics that you measure to help you make the next decision for your company?
We are fanatical about customer success and having the best customer support experience that you can find. We have an internal health score that we monitor constantly. If customers are happy, and they are using the product to solve their problems on a daily basis, we have done our job.
What decision brought the most successful results for Payhawk as a SaaS business?
I would say getting like-minded investors who have the same vision and trust the team created the biggest impact for us. Fintech is a market that has high barriers and without significant upfront investment, it will be hard to be competitive and to create a strong product. So I would say that the biggest single impact has been working with investors who have already supported companies from Seed to IPO.
What's one thing that you would need right now to keep growing? 
To continue growing, we need to continue our pace of recruiting and retaining a team with high talent density. We are in a great market that is expanding, and we have one of the best solutions in the market. The opportunity is there, so we just need to execute like there is no tomorrow.
Focus on creating a great relationship with your customers
Now let's explore a little bit the local food delivery market through the eyes of GloriaFood and Oliver Auerbach. Oliver founded Gloria Food as a freemium online ordering system for restaurants out of frustration with existing solutions. 
While being at Avira, a German antivirus company, Oliver spent most of his time with his global team in other countries. This is where he realized that online ordering for restaurants was not widespread across the globe. Oliver realized that it was inconvenient and very expensive for a restaurant to work with marketplaces such as UberEats, DoorDash, and Foodpanda.
"Most of the time, I would arrive at the hotel after a long day and try to order food online. Not knowing the local language, it was just easier than calling the restaurant to place an order. And that's how I discovered that the online ordering process was far from being an easy and interactive experience, for both the food customer and the restaurant."
Consequently, GloriaFood was started with the idea to help restaurants have their own online ordering and own the direct relationship with their food clients. Oliver was one of the lucky ones during the past pandemic year, as the online delivery market exploded, and many restaurants switched to online ordering. If at that time, less than 20% of people used to order food for delivery, nowadays more than 50% of food customers choose online solutions.
GloriaFood is a freemium online ordering system for restaurants that enables restaurant owners to easily create an online presence and start selling their food within hours of setting up their accounts. The platform is also designed to improve the client-restaurant relationship with the goal of making it more pleasant, simple & interactive for both parties involved.
Besides the pandemic, we wanted to chat with Oliver and find out which were the biggest challenges, and what had the biggest impact on their growth.
So, join me in the section below to discover more about GloriaFood's journey!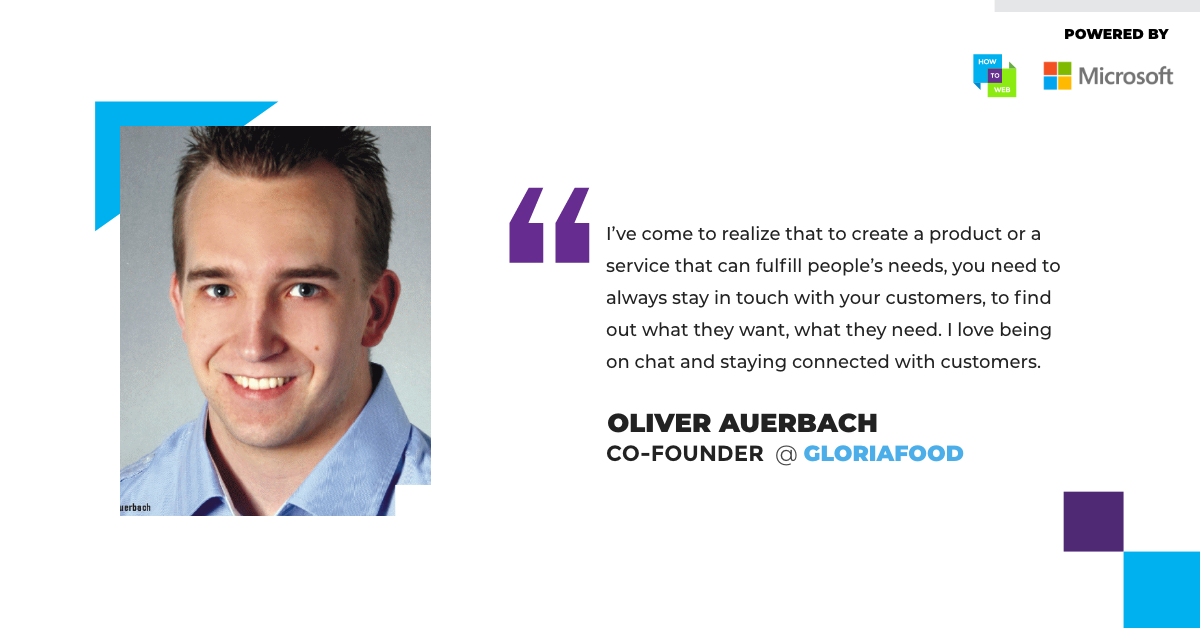 Interview
How did you validate the SaaS product with your target audience?
Well, to be fair, I was the first one to validate the idea of an online ordering platform that could facilitate the relationship between a restaurant and its food clients. 
Before setting up GloriaFood, I used to travel all the time for work. One problem that I kept encountering was not being able to order food online, once I arrived at the hotel. I was tired of ordering room service and wanted to try out something new, by ordering from different restaurants. However, more often than I care to remember, I found that the online ordering process was tricky, to say the least, for both the food customer and the restaurant.
It wasn't interactive. So, I started thinking about how I could solve this issue. And that's how the idea of GloriaFood was born. We then wanted to see what the demand would be for a platform that could potentially simplify the online ordering process, so we built a website showcasing a product that didn't exist at the time and waited to see if people were signing up for it.
How did you attract your first paying customer?
After we launched the GloriaFood free online ordering system for restaurants, we focused on acquiring customers. So naturally, we used Google Ads to get our first free users; however, soon thereafter we realized that content really is king, so we switched to a far more cost-effective content/SEO strategy. And our efforts paid off. 
We use a freemium model, so our goal was to acquire as many free users as possible that can later become paying customers, by getting upsells. We're talking here about more complex, paid features, like online payments, advanced promo marketing, sales optimized websites, and branded apps that can be purchased by anyone, at any time of their choosing.
When we launched our very first paid feature, we had hundreds of active free users, and a subset of customers actually self-upgraded. It felt extremely rewarding knowing that my team and I created value for our customers with that first paid feature. 
Did your target audience change over time?
I can't say that it has. Our target audience still consists of restaurant owners from all over the world who are drawn to GloriaFood because of our great user reviews. We understand their problems, so we were able to come up with great solutions along the way.
How did you adapt the strategy to grow from 1 to 100 paying customers?
In all fairness, we were so focused on creating a great product that the number of paying restaurants started increasing on its own. After we created the first paid feature, a great number of our free users purchased it. By the time we added the 2nd paid service, we already had a few hundred paying customers. 
Have you switched the focus from acquisition to retention so far?
Yes, in fact about 2-3 years ago, we came up with a strategy to reduce churn, which was based on 2 main aspects: creating a great product, by constantly developing new features that can solve our customers' different needs, and providing high-quality 24 hours customer support – over the years, I've come to realize that to create a product or a service that can fulfill people's needs, you need to always stay in touch with your customers, to find out what they want, what they need. I love being on chat and staying connected with customers.
What were the main challenges in this growth process?
One of the most important challenges was to delegate my own tasks. When you have a company, you learn to wear different hats, and so you have control over everything that happens. You also feel responsible for the failures and for the wins, as well. 
BUT. Nobody likes to experience failures. 
So you hold on to the control for as long as you can. But the trouble is, that as the company grows, your list of tasks grows, as well. And you begin delegating when you have too much on your plate. But you're not the only one in the company who has to do a lot. So, you also have to make sure that people you're delegating tasks to can handle the extra responsibilities, and this requires time. It's an experiment, after all. It's best when you do it early on. I haven't, and so, I inadvertently became the bottleneck for a period of time until I consciously realized it. 
What type of opportunities brought the most successful results?
It's not one thing, but a set of many things done right. For us it was a mix of:
creating great content and an effective SEO marketing strategy a partner program

that allows agencies around the world to sell our system locally,

combined with a self-service product

that people can learn & configure from the moment they sign up, 

and amazing

live chat support available 24 hours

– we're always there for our customers, whenever they need help. This is the reason why we also started growing our

Youtube channel

. We have started publishing new tutorials on how to get things done to provide our customers with a bit of visual help.
What other opportunities do you need to grow your SaaS business?
In order to grow our business, even more, we still need to develop plenty of new features requested by customers, features that help them run their restaurant business better, every day. And since we place a great emphasis on creating a great relationship with our customers, we want to be able to provide them with the help they need. With the features they need.
For this to happen, we also need more proactive customer-success specialists who can bond with our customers and find out about what they need and what they don't. At the end of the day, it's all about staying connected with your customers.
Incubation programs are pushing us into the mass-market adoption
In the following sections, you learn about the journey of another SaaSy startup story, where you get the chance to meet Casius Morea from EmailTree AI. Casius developed an email automation solution to increase our productivity, by reducing the time we spend on writing a reply or sorting through them. 
Casius is the founder and CEO of the SaaS platform that will reinvent the way customer services work, using hyper-automation to reply to customers' requests.  Using 18 years of experience in customer services management in the e-commerce area, EmailTree AI was born as a logical next step, to build and bring high productivity to agents and customers.
He always liked to "follow" the customer's path and behavior when engaging with companies. By observing and understanding these elements, discovering the blocking points, Casius likes imagining the technologies and solutions to create the right mix of human/machine, to solve faster text requests.
Together with Casius Morea, we will navigate through the key moments in EmailTree's journey as a SaaS startup, to identify the main blockages, analyze the impact of the initial investment rounds, and future company growth plans. So, let's dive right into the questions.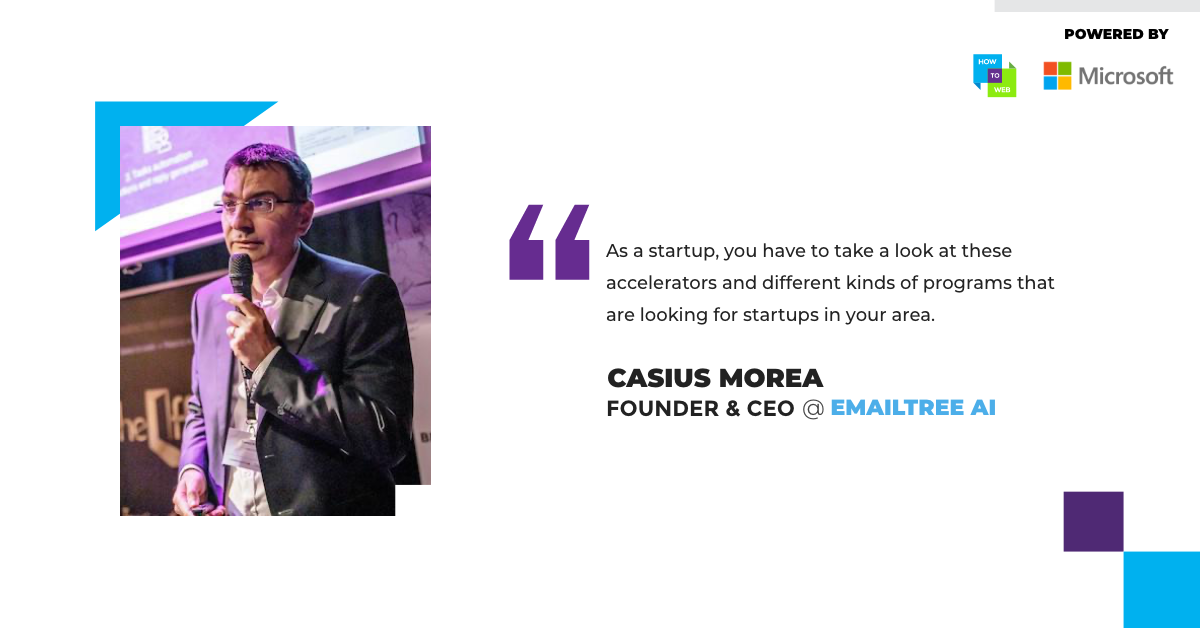 Interview
Who is EmailTree AI and what's the company's target market? 
We started EmailTree AI as a company back in 2007, first as an internal solution for other e-commerce companies that I have under my portfolio. We had thousands of emails that needed automation and different problems to solve, for which email automation seemed like the perfect solution. However, we tried to find solutions to automate as much as possible, but nothing seemed to work for us. This is how the idea of EmailTree AI was built.
After one year, we met with Orange Luxembourg, where we ran through an incubation program. That was a key moment that impacted the growth of EmailTree AI because we added new features, adopted changes within the company, and scaled our product to the next level. The incubation program that we rolled out together with Orange, brought to us another customer from the telecommunication area, who decided to sign up immediately. Next to them now, we have multiple companies running successful projects, such as those coming from the media industry in France or from the car manufacturing industries across the world. 
Incubation programs are pushing us into mass-market adoption, for which we had to adapt our pricing strategy, and we now serve both SMBs and enterprises.
Was it difficult to define your audience?
In our case, we started validating each scenario within the e-commerce companies that I had, for tasks and projects such as automating the request of an invoice or the process of booking a flight ticket. Only when we identified an increasing demand, and the right channels for us, we built EmailTree as a SaaS platform. We wanted people to be able to easily navigate around and shop through a straightforward subscription.
Among these channels, Microsoft Azure was a core element upon which we could build and scale EmailTree, and soon we'll also have a native add-on for Microsoft Outlook. Soon, everybody will be able to download or activate our admin and use it inside their Outlook interface.
We all know that growing a startup is not an easy job. There are a lot of struggles and challenges that must be overcome in order to succeed. For EmailTree AI which was (or are) the top three key moments in the startup journey?  
On this challenge to address the mass market, I think it is all about the way we make it easier for the end-user to resolve their core problems or improve their experience. The products they use need to integrate into their own life and job. The most important elements in EmailTree's journey were to listen to our audience, get feedback directly from our early users, iterate and improve the product, but also adapt the roadmap along the journey to make sure we are going in the right direction.
Addressing the mass market is a huge milestone for each SaaS product because it challenges you to transform the way you embed and use the technology stack upon which you build your product. Even if the technology behind is very innovative and complex, we have to make it easy to use and follow through with a simple user interface.
From a user perspective, all the buttons need to be in the right place at the right time and have all other unnecessary steps eliminated. Each additional step is blocking the adoption process. In this transition from the first clients to the mass market, you will get a lot of customer support requests, and a lot of feedback from your customers saying that they don't understand why a specific element is in that specific place or why a specific piece of the product is not working.  You will need time and patience to sort through all this information and feedback and prioritize your next action items based on core elements. Some of them would need to be prioritized as soon as possible because they are causing a real blockage, but others will be able to enter the roadmap for a longer time. 
For EmailTree AI, this process of getting feedback from customers and prioritizing our product roadmap based on the most important insights that we found out really pushed us to find the right way to develop our product for the future and change the user experience, to make it as simple as possible.
Let's go back a bit on the backbone of EmailTree AI to see how everything started, and map some of the key moments from their startup journey. So, Casius which were the top moments that had the biggest impact on your startup's growth?
As I mentioned before, one of the key moments that impacted Emailtree's growth was the incubation program with Orange. I wish for every startup founder to meet a solid partner like we had Orange. This was a turning point for us. Day by day during the incubation program we had the opportunity to learn how our product will be applied at a really high-level company, and how hundreds of people will resolve painful problems through our platform at the same time.
You have to take into consideration every piece of feedback and small advice that is coming from this kind of customer to improve your product.
The second important moment for us was the day we rolled out the partnership with Microsoft, back in 2018. We joined Microsoft ISV in Benelux and started to work together with the team working at Microsoft Teams to discover ways that we can integrate EmailTree AI into their environment. It was a challenging moment when we had to understand what we had to do for our users to simplify their work, what changes we had to adopt in our platform to make it available for all Microsoft Outlook users. We had the challenge to make sure that our integration doesn't feel like you are working in a different product rather than Microsoft Outlook. 
The integration was not as successful as we wanted it to be, but it was a rewarding experience from which we learned a lot. This experience led us to the next one when we were selected in the Microsoft for Startups program, back in March 2020. This was a second program that accelerated the growth of EmailTree, and the support we received during the program from Microsoft's engineers was very effective. If initially, we were estimating the development of an integration to be around 10 months with existing resources, now we are able to bring it to live in about three-four months of work. 
And because one thing usually leads to another, the last key moment for us was the partnership with UiPath, which started after going through Microsoft for Startups. Today, we are working with the same investors and advisors that UiPath had, to develop and grow the same type of automation. They have a tremendous amount of experience in this area, and together with the complementary UiPath technology, we'll be able to scale our product even further. 
Now, let's go a little more in-depth into the key moments for EmailTree AI. First partner – What problems did you have here? How did you solve them? 
Corporate companies need to evaluate their best solution quickly, and they don't usually have the agility of a startup. This is why many companies are looking for teams that are moving fast, and resolve a problem in a different way. For EmailTree AI it was a continuous struggle in the first year where each knocking on the door brought silence or a negative response. But no matter how difficult it is you have to continue and say "Hi, please take a look at my product!"
If we wouldn't have pursued this process we would have failed to meet our first partner Orange which was a clear product fit with EmailTree. We organized a meeting with them, had a live demo, and I think their decision was made during the presentation. In case you meet those companies that keep pushing your appointment from one month to the next one, then focus on other companies. Those are not really your clients, because they either don't need your product or don't have the right mindset to change. Focus on those who will follow you immediately, and ask how your product is working.
When we had an initial call with one of our account managers from Microsoft for Startups, somewhere during the summer of 2020, I received a simple, yet powerful question.
What would you like to get from Microsoft for Startups?
Questions like this one can be intimidating because at first, you might not be sure what's the first thing to ask for. It's like the three wishes that you can have from the magic lamp. 
As you could probably guess already, I didn't know what to ask. I knew they were partnering up with startups and supporting innovative companies, but I was not sure how to approach it. Then, the lady said You know that you can even ask me for lunch with our CEO? Anything is possible. At that moment I understood that they really wanted to help us, and this was a common feeling I had during all our collaboration with Microsoft. I felt there were zero walls to climb in order to reach the right person. 
Our demo didn't go as planned because we didn't have the right number of people to deliver the integration, and because we didn't have the experience of failing. And there should always be a perfect combination of human and technical, where your product is not only functional but also user-friendly. You can't push your product in the market if you don't match these two criteria. Things started to improve as soon as we had a dedicated team member from Microsoft and a couple of engineers to help our team understand their products. This way you ensure that the basis that you are building on is very solid, with stronger pillars. Is not anymore a single task happening in your office. 
Partnering with UiPath – made the differences between EmailTree AI 
Another important partner that had a significant impact on EmailTree's growth is UiPath which started to shape in early 2020. We knew that Microsoft played a big role in shaping the success of UiPath from a technical perspective, and after a few successful months of working with them, we had the chance to expand the collaboration. 
Additionally, the success of UiPath was a positive experience for Microsoft for Startups, and this is one of the reasons why they decided to invest in this area of Europe even further. This decision impacted us more than we thought, as our account manager is now part of Microsoft Romania and we are working closely even more. UiPath opened the doors, and we think that more success stories will follow soon, having Microsoft for Startups as constant support to help them push the product out into the market.
Recently, we have been accepted into a french accelerator program, that is looking for companies that treat the problems of insurance companies. As a startup, you have to take a look at these accelerators and different kinds of programs that are looking for startups in your area. 
Even if you don't have a perfect match with the selection process or a real chance to win, you have those people from corporate companies right in the jury or around you, and they will learn about your product. Keep the momentum going for months or years, until they see you have matured from a small idea or product into a scalable tool that can resolve their problems. 
Mass Market – What problems did you have here? How did you solve them? 
Each country has a few accelerator and startup programs that are really strong. In EmailTree's case, InnovX and Microsoft for Startups were definitely the two core ones. The experience we extracted from there expanded our knowledge, opened many doors, and built a strong connection. We are still keeping the conversation going with the team of InnovX where we exchange thoughts and feedback along the way. 
What I can recommend to other startups is to join an accelerator program. Look for them and see how they match your profile, your company phase, and growth path, send your application, and then focus on this partnership and making your name and product known out there. Two elements to consider while looking for the best options is to check what type of human and financial resources they have to help you in your growth journey.
Today, we are having investors and advisors that contributed to UiPath's success, and their huge experience is helping us develop EmailTree through the integration with UiPath's technology. To have a better understanding, in order to feed robots, you need to prepare and orchestrate all the data, prioritize all the tasks and have each system in place. This integration is making possible what only a few companies can do worldwide. When you have a request, you need to be able to solve it from A to z with different automation tools, AI services, and or robotic process automation. 
Find a solid partner that would help you scale
Through the story of EmailTree AI, we learn more about their successful involvement in local startup programs and partnerships with other companies. However, besides those resources that can be also consulted in the final section, we wanted to find out from one of those programs that looks with high interest at SaaS startups why this business model is so interesting.
Going forward, let's explore together how Microsoft for Startups helps SaaS Startups scale and succeed, and what type of resources they have. More insights will be shared in a few rows below by Alin-Vlad Badilita, Startup Program Manager at Microsoft.
Alin is a startup growth enthusiast with a passion for innovative technologies, marketing, and developing business opportunities for small companies with big ideas. With over 11 years of experience in digital, 6 of which in startups, he managed to play different roles in several organizations – from business development, project & product management to event management, digital marketing, and strategy.
Highly experienced in working in online ventures and always checking the pulse of the market for new players, tech stacks, and strategies that can be molded and adapted to optimize processes and improve workflows. Advertising background and entrepreneurially educated by local and international founders, he advocates for innovation in legacy systems, remote work and is a fintech promoter in the local ecosystem.
Startups are best known for their innovative nature and ability to pivot in case of market shifts.
While a startup consultant, usually working on small budgets with big expectations, the revolution of SaaS solutions helped me, and countless other companies to not only be competitive but also flourish and operate at a higher productivity than established players who were not as technology savvy or open. SaaS is going to be an increasingly convenient and affordable option across industries, both now and in the coming years – and this accessibility and fast deployment are just a few of the features that made me a strong believer in this technology and a SaaS promoter.
Microsoft prides itself on being a partner-driven company. Through Microsoft for Startups, we offer unmatched support for eligible startups that have a synergetic offering with Microsoft and its worldwide clients. It was created as a program dedicated to accelerating the trajectory of high potential B2B startups to enable growth at scale through which we strive to align our commercial partnership with the startups' business objectives to drive joint success.
From artificial intelligence to mobile optimization and customer-centricity, the SaaS market will shape the IT sector for years to come. Clearly, SaaS still has a small market share compared to on-prem solutions but the digital transformation that was already in motion has been fueled by the medical crisis in the last year. Gartner anticipates SaaS solutions will generate revenues of over 130 billion in 2021.
This jump forced companies to shift towards remote and hybrid work and SaaS solutions were the tools that helped them created their new work environment. As businesses continue to rely on data-crunching tools and technologies to increase both productivity and time to market for their products, we notice that the enterprise apps of today and yesterday are just not enough to fulfill the entire flows of the digital age. So, we are noticing more and more enterprise solutions embracing the "as-a-Service" business model to satisfy the agile environment.
Microsoft has already set the foundation to being a leader in the SaaS revolution – the ability to ingest data from multiple sources then crunch it inside the Azure foundation and the ability to help businesses have 360-degree views of their customers and flows.
Leading companies in every industry are partnering with us to build their own digital capability to compete and grow. This is creating broader opportunities for everyone, including our ecosystem. As one example, the Co-sell program we introduced 18 months ago has already generated $8 billion in contracted partner revenue.
Satya Nadella, Chief Executive Officer Microsoft
Freed from the barricades of on-prem and through unified data sets, customers will be able to access, share and take decisions faster and better. We heartily welcome SaaS into the Azure ecosystem, as it will give companies worldwide the ability to re-invent and shape their modern business.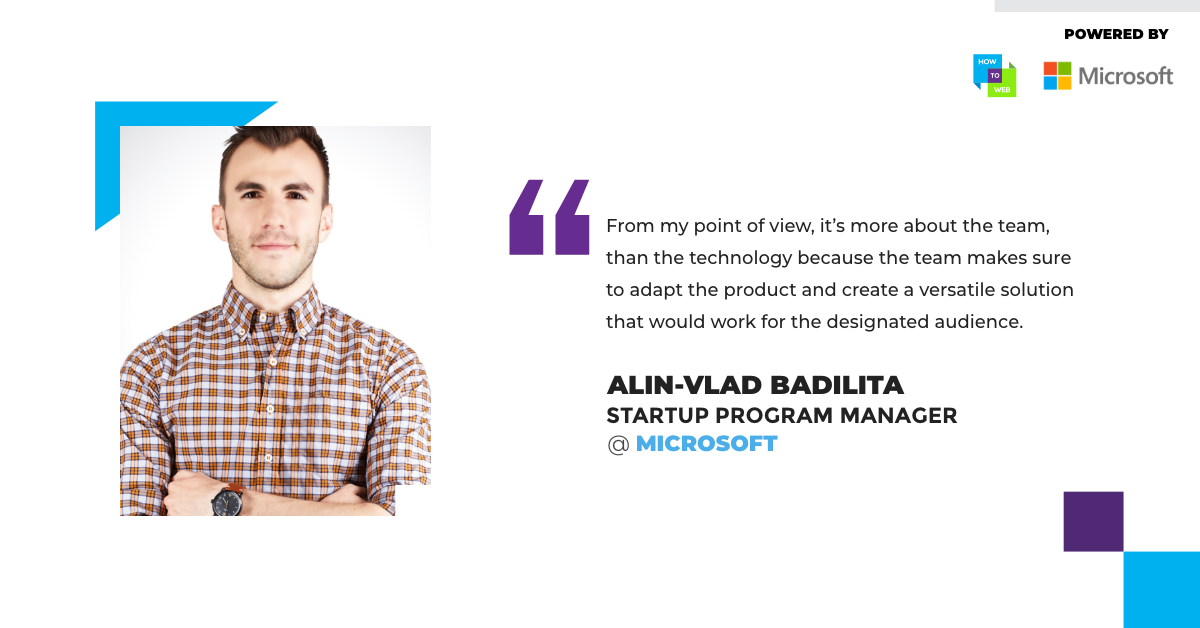 Interview
How Microsoft for Startups actually helps a startup and what it can do for a SaaS company to grow and scale?
First of all, I want to shed a bit of light on what many people may not know. Besides the classic Windows and Office suite, Microsoft is also the largest global partner network, so if you become a partner with us you get all the support you need to grow and scale your business. We foster and enable innovation, and that is coming exactly from these startups that we are partnering with. 
The Microsoft for Startups program on the other hand is a fast track for companies with innovative solutions that are looking to partner with Microsoft to upgrade and adapt their solution. And we are not only creating this process but also helping companies that are using Microsoft services to use and create innovative solutions. Especially, after the impact of digitalization, brought by COVID-19, it became extremely important for us to adopt new technologies and find ways to work with clients that reduce costs and optimize productivity. 
When is the best moment for a startup to join Microsoft for Startups?
We have some eligibility criteria, but what's extremely important is that the startup has a few years of experience on the market, a few (or more) paying customers, demonstrated product-market fit, and of course, be a B2B born-to-the-cloud solution. 
SaaS startups are way more flexible in terms of business and technology, but not all of them build to scale from the start. The big advantage of the startup program is all the support they can get so their solution can be easily productized, therefore easily deployed, and easily adopted. Although a few years back SaaS companies were still young, general tools, we see the SaaS wave taking over bigger competitors and they are becoming and will be for the foreseeable future, very important for the entire development and technological ecosystem at Microsoft.
From an entrepreneur's perspective, there is no better time to start building your SaaS. Thanks to digital, it's now easier than ever to reach product-market fit on a budget and see if your idea has the right foundation to become a successful company.
Why is Microsoft for Startups supporting more SaaS startups?
Today, we have the advantage of having multiple cloud solutions that can be easily deployed and adopted and that is an extremely important step for any business. When it comes to custom development, that takes a lot of time, a lot of regulations or compliance systems, a lot of documentation signing, and here SaaS solutions are the ones that come out of the box because you can easily sign up and adapt to your needs.  
Now, if we are looking at SaaS companies in Romania or at SaaS companies that went through Microsoft for Startups, I can name a few success stories such as FintechOS, Jobful, MedicAI, or Plant An App.
Not all companies have a very SaaSy solution right from the start, but they work to productize their solution to make it easier for everyone. I know that maybe I'm over-explaining the ease of use, but the ease of use is what allows our partners at Microsoft to sell the solution. If a project takes more than a month or two to implement at the client, especially enterprise clients, that means a lot of friction and wasted time for the partner.
How does a unicorn in the B2B sales area look like?
This is a tough question because a unicorn company appears sometimes out of nowhere and out of innovation. However, most of the time, the factors that drive a startup to become a unicorn are a very good execution from the team members. If we take a look at worldwide unicorns out there, you can easily find copycats of those specific unicorns that are either dead for a long time or they are just rising up. 
From my point of view, it's more about the team, than the technology because the team makes sure to adapt the product and create a versatile solution that would work for the designated audience. 
If you ever went through a funding round or had a talk with an investor, you realize that if you didn't make it through, it is due to a very cheap execution coming from the founders that should have given the product more time for it to work and find product-market fit. 
I will take the example of UiPath which had a very hard start in the first year, and only after a few times it blew up on the market. If you believe in your idea and the market and you see that the market is going in that direction, do not give up and align your team and partners to work towards that. 
Raise investment from a SaaS VC fund
According to the recent 500 Startups Report, all around the world over $48 billion was invested across 2,600+ companies in SaaS in 2020. This value outstrips the prior high in 2019—$43.6 billion.  Globally the numbers look good, but let's have a closer look in the backyard of Point Nine Capital (VC specialized in investing in SaaS companies, based in Europe).
From 2016, year by year, Point Nine Capital released the famous SaaS Investment Napkin where they try to find the answer to the question of:
What does it take to raise capital in SaaS?
They started to analyze market trends, public data, and insights from investors, and in 2018, they started to run a survey between a larger number of SaaS investors to consolidate the data even more.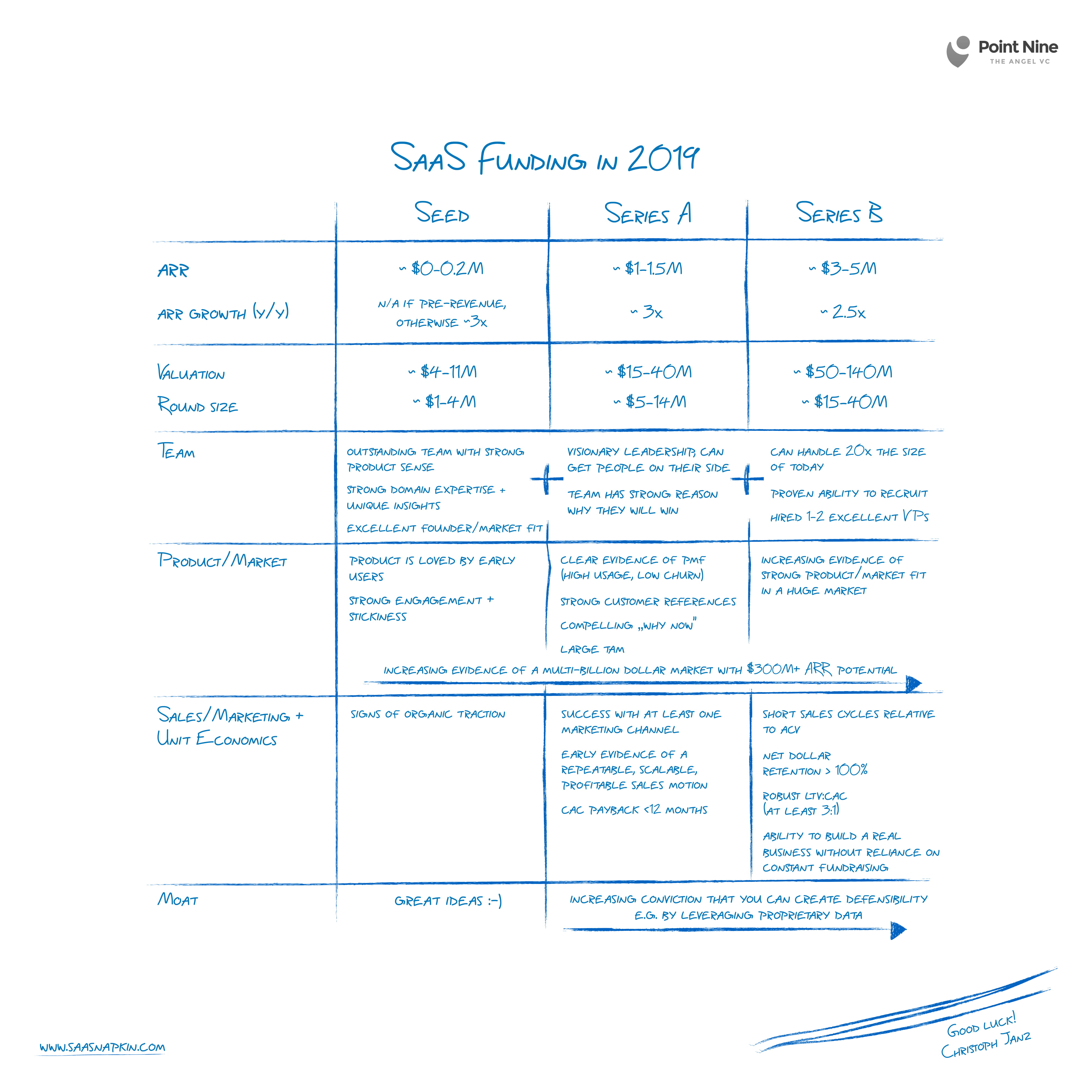 Source: SaaS Funding Napkin by Point Nine Capital
A few things that we extracted from the latest editions of the SaaS Investment Napkin are:
Nr. of round size and valuations have increased

There was no significant change in ARR, and growth expectations

Seed is no longer considered an investment round, but a startup phase
Many startups raise several million dollars in 2–3 rounds until they are ready for a strong Series A, which makes it even harder to pinpoint the characteristics of a typical seed round.
We couldn't lead the way to the full picture without taking a moment to talk about raising investment, and what better option than Point Nine Capital, a VC-fund specializing in investments for SaaS businesses. Since 2008, their first year of activity, Point Nine Capital has backed successful companies such as Algolia, Brainly, Contentful, Delivery Hero, Docplanner, Loom, Typeform, or Zendesk.
For a better picture, we sit down at the same table (or better said in the same Zoom call) with Ricardo Sequerra Amram, Partner at Point Nine), and went through the following things:
Why Point Nine Capital specialized in B2B SaaS investments?

Why do they invest mostly in Seed, and only occasionally pre-seed or early Series A?

Which are the key things that an investor follows at a startup?

Which are some of their successful examples?

… and a few more that you'll have to figure out by yourself. 🙂 
But who is Ricardo? 
Ricardo left home in Lisbon to focus on early-stage startups, for a short period of time on building, and now mostly investing. He is an optimist guy fascinated by how software solutions, network systems, and the whole world of data change different industries, markets, and people.  
He'll be your guide in the interview below, and if you like our discussion you can ping him anywhere online to expand the conversation. He's fluent in English, and other 4 languages! 🙂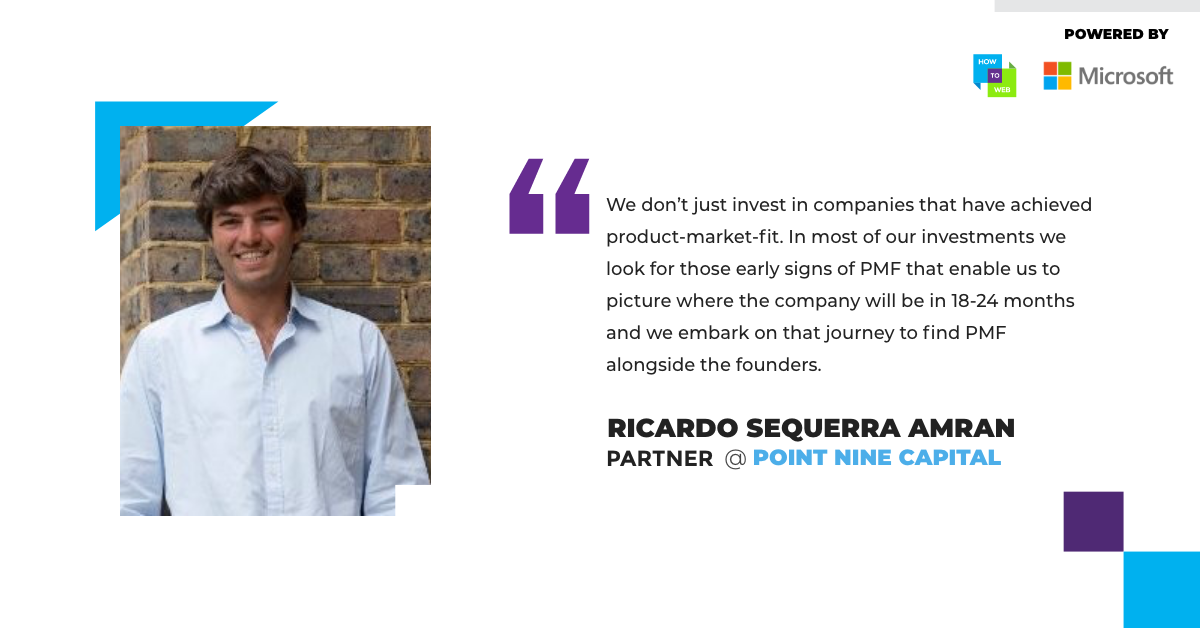 Interview
Why does Point Nine Capital focus on investing in B2B SaaS businesses?
We don't invest only in startups that achieve product-market fit, but we look for those early signs of potential success and product-market fit, which enables us to picture where the company could be in 18-24 months after we've invested. This helps us understand what type of work we could do together with startup's founders in order to reach the milestones that we believe the company would be able to achieve based on that early validation.
It's not that we invest post-product-market fit, it's typically what we look for are those early signs of evidence of potential product-market fit, which enables us to picture where the company could be in 18-24 months after we've invested and ultimately helps us understand what type of work we could do with the entrepreneurs in order to reach the milestones that we believe the company is able to achieve based on the early validation that they've achieved out of either the first handful of customers or the first hundreds of users that enable us to picture how the business could look like further down the line and then ultimately helps us buy into the trajectory that the company is in.
Which were some of the most successful companies from your portfolio and how did you spot their success in a very early stage?
Point Nine invested for the first time into software as a service company close to 11 years ago, and it all started from there. The first investment came from Christoph Janz, who decided to invest his money at that time into a small company from Copenhagen, called Zendesk. 
Soon we learned that the B2B SaaS market is growing and deserves special attention from investors. Alongside B2B SaaS companies, marketplace startups became more visible under the spotlight, and Pawel Chudzinski in our team has been very focused on marketplace investments. This is how Point Nine started focusing on these two business models and we think that these are two winning models of internet businesses.
Software products and companies have the advantage of being able to be empowered by cloud technology and the internet which makes them significantly scalable. Cloud technologies became a predominant choice over the world, both for small companies, and large enterprises. The fact that you can build a software product that becomes accessible from anywhere in the world, easy to use and pay, through a subscription-based pricing model makes SaaS startups a very attractive business model. On the other hand, marketplace startups have the power of a "network effect" that allows them to take significant market share over time.
Which are the most important factors in an investment process?
There are a few important factors that we take into consideration in our investment thesis. Among the principal ones is that we think awesome founders can come from anywhere and they can build their initial teams in their home market and over time build their go-to-market efforts so they can reach their target customers wherever they are. We see a lot of our companies build their initial teams and capture their first set of customers in their home markets and then over time go after Western Europe or the US, where the majority of software spend happens. This is similar to the Israeli Model, where you build your product locally, by using talented people from your nearest area and become the initial hub. Then once your product and organization are ready, you can quickly scale to the US.
We've been working with companies from across the globe, implementing this type of model. Whether you come from the UK, France, Romania, or other countries, you can build your tech team by leveraging all the talent coming from the huge pools of incredible developers, designers, and product professionals that formed around the world. On the other hand, if you have a SaaS business you are already global from day one because everyone can buy from you, no matter the location. And as you scale and build your team, you capture important budgets from those regions, such as it's Western Europe or the US, where a lot of people buy software today.
At Point Nine, we invested in local companies, especially around Poland from where my colleague Pawel is originally from, in startups such as DocPlanner, Brainly, and other ones focused on the marketplace. Most recently, we've invested in a company from Slovakia called CloudTalk, and we see companies scaling successfully around the world. We've been investing in this thesis since day one, and we'll continue to do so.
What founders should be aware of before sending a pitch deck? What are you looking for inside of the pitch deck? What kind of milestones should they have achieved? 
We are always looking for interesting and innovative ideas, our application forms are open on the Point Nine Capital's website at any moment, and we are one click away from any questions you may have. So, make sure you reach out to us via Twitter or Linkedin! 
However, make sure to do your research and homework because, given the number of pitch decks that we receive, we need to prioritize and analyze based on the most important elements that we would like to see in a pitch deck, such as:
A unique insight on why you as a founding  team are well-positioned to build this specific product and why you're going to win the market you're in

Why now is a great time to go after this opportunity?

What type of industry insights do you have that give you an advantage vs. competition?

What initial evidence do you have today that your initial assumptions were correct?
An example could be that you worked for organizations such as UiPath, or built specific technology in your previous work experiences, and now you are offering what you've built to the rest of the market. We love to get a sense of your clarity of thought and your most unique insights reflected on the pitch deck so that we can better understand why a specific company is on its way to success. 
If there is one thing that you would like to say to a SaaS founder, what would it be?
It's never too early to reach out to an investor. 
At Point Nine, we like to say that we invest before the 1.0 version is out. So, we are definitely fans of a very early-stage product, something that you as a founder might not be that proud of. What matters to us is seeing early signs of usage, or initial paying customers that highly value what you've built. That excites us much more than a revenue milestone. We're excited by your ability to close some interesting logos or how you bring a group of users that are really engaged while using your product, in a way that delivers value, ROI, and/or optimization inside their companies. If we're excited by what we see, then we'll most probably reach out for a follow-up call or get back to you with some additional questions to learn more about the opportunity. Having this ping-pong with the founder enables us to better understand whether it's something that we want to spend more time on as a team or not.
How can you help me define the strategy for example? How would you help me scale the business to reach the next milestone to make sure I achieve it after we'll raise the money?
As with many things in this area, it depends. There isn't a single strategy for any SaaS business. My colleague Christoph wrote a blog post on what type of animal you are hunting that shows the different paths a SaaS company may take to get to $100M ARR.
Depending on whether you're hunting flies, rabbits, or deers we'll then help define the right go-to-market motion that works from a unit economics POV. If you're hunting customers that will be paying $1000/year you'll have to be much more efficient from a sales and marketing point of view than if your customers will pay you $100,000 a year.
What type of milestones are you focusing on with the startups that you work on when it comes to seed and Series A investments?
We focus primarily on seed investments, and only a few times we decided to participate in smaller series A rounders as an entry check. In terms of milestones that need to be hit, I think it depends from one company to another. From the moment we invest, we start our collaboration with some roadmap planning to define what we want to achieve in terms of product development, growth milestones, and team growth. Over the following 12-24 months we have constant check-ins with the team. Not just overboard meetings but a lot of exchanges over Zoom, WhatsApp, face to face meetings, and loads of collaboration over Google Docs or other tools the founders love to use 🙂 
It's very difficult to say which are the most important elements that need to be validated in order for a Series A investor to be attracted and keen to invest in a business. There are different validation points and milestones to achieve, not just the revenue ones, but each business has its own particularities that need to be taken into account. 
What does it take for an Eastern European founder to raise capital after the pandemic area?
I think that 2021 was an interesting year. We're seeing digital transformation and technology adoption at a massive scale and much quicker than ever before. The pandemic brought more opportunities and enlarged the addressable market for software in many industries. We see a wide area of opportunities for software companies and more and more founders are coming up with novel and interesting solutions to solve problems that didn't exist yesterday, but that we're facing right now. At the same time, we're seeing increasing adoption of the software inside companies.
There is a proliferation of opportunities and a proliferation of capital enabling founders and companies to prove the initial assumptions around their business.
What is amazing as well as the fact that today the fundraising process has changed dramatically both for founders and investors? Irrespective of where they are on the planet, founders and investors are meeting over video calls whereas in the past they'd have to fly and meet face to face most of the time. Before Covid-19 capital used to be locally distributed and face-to-face interaction was almost always required, but now founders can pitch to investors across the globe in the comfort of their office through video conferencing. I believe this created an interesting playing field for founders because they don't have to travel around and spend months on the road to find the right investors for their business.
Personally, I feel that founders that have raised capital before or successfully exited a business have an extra advantage towards fundraising in the very early stages, compared to first-time founders which have to extra hustle. First-time founders will have to validate some of the initial assumptions that I mentioned before, to be able to raise their first round of funding whereas founders that have an existing track record will be able to raise the round faster and earlier. This is why I think there is this bifurcation at the early stages where maybe the rules are not the same for every founder in the world. 
If you take a look at the Point Nine Capital portfolio you will see that we have a strong appetite to back first-time founders, no matter wherever they are in the world. 🙂
What's any last piece of advice for SaaS founders from the Eastern Europe area?
I think the most important thing to focus on at the early stages of a company is what I call "the insight validation process". Before you even start building or raising money, I think it's important to validate what you think is a great idea, and what you think might be an important problem to solve. This process involves a lot of customer research and customer interviews, to better understand whether what you'll be betting the next decade of your life on is something worth solving or not. So, please do take some time to validate your insights. You will be much more comfortable and confident on what you're working on, you will understand the customer pain points, and you'll have more agility to navigate around the product roadmap. 
Sometimes founders rush into the building and into trying to secure customers but they should have focused more on validating their assumptions first. Ultimately, this might lead to wasted time and money or the product needs to change further down the line. So, the customer validation process for me is one of the most important steps in the entrepreneurial journey.
Growing a SaaS business - YAY or NAY?
In the closing section we talked to a SaaS Growth Expert to run through a short roundup of elements that are impacting the growth process of a startup, and a complete overview. Additionally, let's see what type of resources you need to foster growth and ensure their path to success. 
For this overview we talked with Trevor Hatfield, previous speaker also at How to Web conference, back in 2019. Trevor is the Founder & CEO of Inturact, an integrated SaaS Marketing Agency providing strategy, innovation, and the ability to execute on ideas. Inturact reflects the integration of the talents that have come together to create marketing opportunities through inbound marketing, website design & development, and branding.
Trevor's superpower is that he can create top-level online marketing opportunities that take businesses from 0 to 100, but let's see what exactly applies to a startup journey below.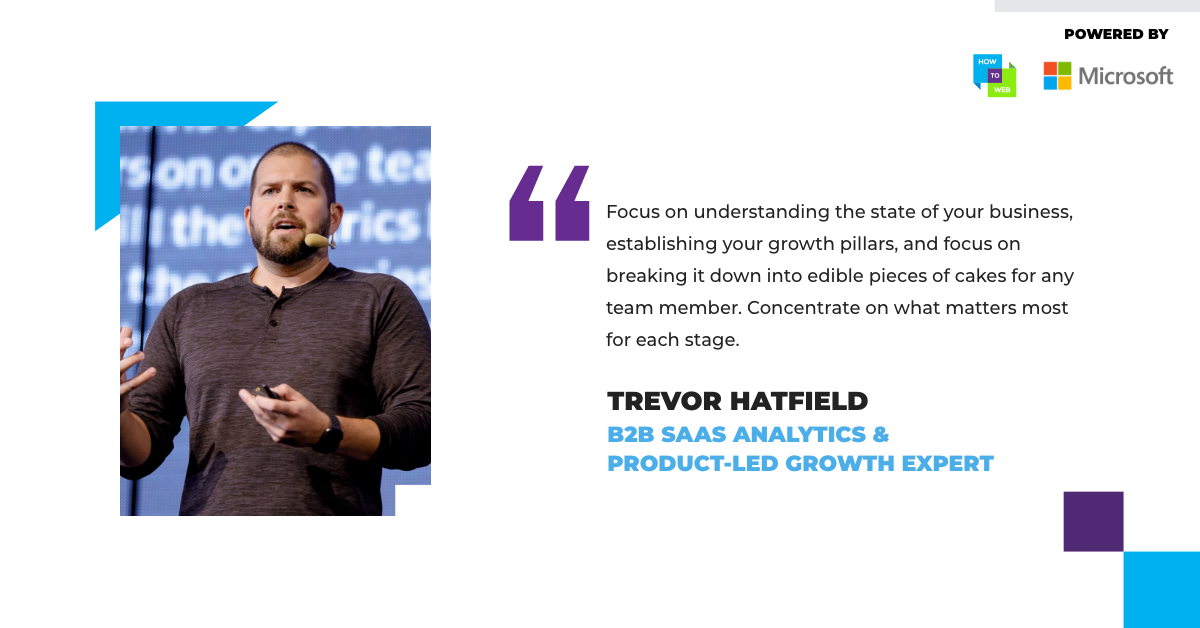 Interview
What does it mean growth for SaaS companies? From where should a founder start this journey?
It's a big question but from my point of view, I think it leads into where every founder should start. So, my proposal is to break down all the processes into two core stages. For example, try to figure out and see what it means to go from the early startup stage to a growth phase, and then from growth to the next established stage.
Funny or not, you don't have a choice because you want it or not, your early stages are defined by what it means to be a small startup. However, what matters most to get through these stages, in my opinion, is to understand really well that these stages exist, and what you can do to get through them. 
More than anything, team alignment is another key essential step from which is impacting the direction of the product development. It's all about the job you are trying to solve for most of your audience. It's always about the jobs they are doing, not necessarily about themselves as human beings. They take actions, and based on these actions we categorize them as a good fit or not. If you figure out a person's job, the growth you are trying to achieve through these stages will be much more focused.
If I would have to point to a specific thing for growth, then I suggest we take a look at the five growth pillars generally known in the SaaS world. Action. Activation. Revenue. Retention. Referral. If we simply look at each of those growth pillars and position our path on top of it, we'll find out where we are within each of those stages. For example, if you are in the startup stage, you're really an acquisition focused business, and only in the beginning stage of revenue. If you position yourself in the growth stage, then you have a focus on activation or beginning stages of retention, and already optimising revenue.
Is there any framework that you recommend for founders to use in these stages?
Yes, definitely! For anyone out there I suggest you should take a look at The Pirate Metrics Canvas. There are multiple options that you can choose to be able to fill it out and adapt it for your business. You can find someone to help you, you can find dedicated workshops or educational content that explains each stage, or try out InnerTrends, where in the sign up process, we guide you step by step through the actual Canvas.
Defining the five growth pillars is the first step, and this is the best framework.
What are the main factors that are influencing the growth and success of a startup?
For me, what matters most is how you manage to align your team to the overall vision. I know that many people take vision or team alignment as something underrated, but it has a more significant impact that you can think of. I've expanded what it means to work in the same direction and achieve full team alignment by defining and tracking the metrics that matter most, at the How to Web conference, in 2019. 
Additionally, a recent report by Forrester concluded that businesses with proper alignment see a 32% increase in revenue growth, while organizations with less alignment see an actual decrease of 7%. Simply put, that is the difference between a successful business and a failed superstar. 
You're b, there is no middle ground. 
So, are you sure your team is aligned to your vision?
Is there any recommendation or resources that you would suggest to achieve this team alignment?
Even if you'll find nothing new and might think I am boring, I will go back to the actual Pirate Metrics Canvas, because even if it's not so obvious at first how a few metrics will align your team members, you'll be surprised. 
Once you have defined these pillars, and have the metrics, determine the stage of your business, and what you're concentrating on most. It doesn't need to be everything at the same time. Understand and plan ahead together with your team how you'll grow these metrics, what strategies you will develop, and where they will be tracked, what tools you'll need to grow them, and where are possible gaps in your technology stack. This way, you will also make sure you don't overspend your budget on tools that you might actually don't need.
And as a final step, assign which team is responsible for each stage and metrics, which person is accountable for understanding if the metrics are growing or not, and what should change.  
What's the common errors that many founders make while building this first growth plan?
Of course. Concentrate on too many things at once.
This Canvas helps you break things and dissect everything about what you need to concentrate on at each stage. Most people freak out, and try to run everything at once. It's not working like this.
Focus on understanding the state of your business, establishing your growth pillars, and focus on breaking it down into edible pieces of cakes for any team member. Concentrate on what matters most for each stage, and leave your FOMO outside, because you're not missing anything. 
Which are the key metrics that a founder should follow after launching its startup?
After you launch, there are a couple of things that you should track, and the main metrics should be focused on acquisition. Which is your sign up intent rate? What's the behaviour of your website visitors? Defining a metric around a group of actions or events that determine signup intent, such as starting a free trial, for example, and then leading the user into a fully owned account is one of the key things that you should focus on.
From here and there there might be an overlap or a short switch of focus between this pillar and activation phase, because anybody that's creating an account needs a strong onboarding experience. Then again, if you are keeping things simple here, that might be a problem to solve only after you get those accounts. If you are a sales-led company or a product-led company you'll need a different type of onboarding, but the key is to have these metrics that matter most defined and tracked. Deciding on which one to focus it's another topic, but the goal should be to track them right from the beginning.
If you had to prioritize only three growth tactics, which one would they be?
I like this question because everything in SaaS is about prioritization, right? 
Let's say for example, that in a perfect world, you have a year or two on the market, and you want to focus on inbound marketing, so you're going to wish for organic growth at the core of your business. I think this is vital for anyone, and you should do it right from the start because it's a long term play. You can then focus on paid advertising and organize a campaign that aligns with your content and inbound marketing efforts.
The third one is a cheat of an answer, but from my point of view is the best option. Pick the element that represents the biggest growth opportunity at that time. It could be a variety of things, but based on the growth pillars that you defined in the Pirate Metrics Canvas you should be able to pick one with a good potential. 
So, if I had to do three things, it would be those ones, even if the concentration on each one might change from time to time. If you have three months available, obviously you'll want to focus on activities that drive direct results vs. if you have two years, when you'll want to focus more on inbound activities with long-term impact.
I know you worked with 123FormBuilder and 2Performant from Romania. Can you share a few successful insights from their growth process?
For full transparency it wasn't a direct collaboration, but I was able to work with them through Claudiu Murariu & the InnerTrends team. However, I can provide a bit of light on how the process went. The biggest challenge and confusion people have here is understanding or blurring the lines when it comes to user onboarding, and require technical steps to achieve the onboarding status. We wanted to take a look especially at this phase and what promises deliver the business to their customers. 
For example, if you're a business where people need to schedule meetings, and they schedule one for the first time, then they most likely are in a trial period, not during a paid subscription. If this process has delivered the expectations, then the person is considered fully onboarded, but if it needs other technical steps to schedule the meeting, then they might need to set extra working hours to determine their calendar and see where they can connect with, and so on. 
This is the process, and for each type of user and each onboarding type there is a completely different experience that should be built. You just need to analyze these steps, track their metrics and progress, and build upon it. 
Taking into consideration that the activity of Saas companies is global, is there anything different from being in the US and starting the company there from the beginning?
You brought up a really good point, which is why, if we are talking about Eastern Europe as a destination, I know there is a massive pool of talent out there, but from my personal experience, the location matters at a lower significant percentage for product-led growth drive companies. 
However, if we talk about sales-lead approach in B2B SaaS companies, then you need to grow a team or maybe raise an investment, and location might have a different way of impact. 
If I want to implement a product-led approach, should I find and hire a specialist or should I go for an agency?
The topic is relatively new in the industry, and from this point of view I suggest to start by educating yourself. You have to understand the concept before you start approaching it with other people that know it better than you do. If you can't talk about it to somebody, you're not going to know what you need, and you need at least to know which are the first steps. 
In a second phase it's safe to say that you can now decide what you can implement yourself, and what can be externalized. Otherwise, if you are just trying to search for somebody doing product-led growth, it's not going to help you because you don't even know what you're looking for.
What pieces of advice should you take home?
Understand the scale of the market.

Learn what resonates most with your target customers.

Understand what type of jobs your customers are looking to achieve. Use the JTBD framework.

Treat your customers like they are your business partners.

Understand customer behaviour as much as you can because it will help you define the potential of your growth.

Nurture a great relationship with your customers.

Always stay in touch with your users to find out what they want and need. 

Focus on the use cases that are much more likely to convert.

Build your product by using the local talent that is available in your country or region.

Make it easier for your customers to resolve their core problems.

Get feedback on your product. Iterate. Adapt the roadmap along the journey.

Build a strong positioning in the community if you choose to build a freemium product.

If possible, try to create great content and build a stellar SEO strategy right from the start.

Fill out the Pirate Metrics Canvas and define your growth pillars.

Find a solid partner that would help you scale, and build a successful path alongside his product, especially if you are integrating one with another.

Explore the local resources that you have available in your local community, from communities, meetups, events, accelerators or other startup programs.

Approach a specialized investor or VC-fund, if you are trying to raise an investment.

Have the courage to bring your product naked in front of investors. You are never too early to reach out to an investor.

Find an investor that spends time working with founders, and that help you navigate through the best strategies and assumptions. 
Resources
Articles & other materials
Books
Behind the Cloud – Marc Benioff
Playbook to grow your SaaS business with your customers – Nichole Elizabeth DeMere & Trevor Hattfield
Traction: How any startup can achieve explosive growth – Gabriel Weinberg
Value as a Service: Embracing the coming distribution – Rob Bernshteyn
Hooked: How to Build Habit-Forming Products – Nir Eyal
Scaling up: Why a few companies make it and why the rest don't – Verne Harnish
Product demos that sell: How to deliver winning SaaS demos – Steli Efti
Customer Success: How Innovative Companies Are Reducing Churn and Growing Recurring Revenue – Nick Mehta
Growth Hacker Marketing: A Primer on the Future of PR, Marketing and Advertising – Ryan Holiday
Hacking Growth: How Today's Fastest-Growing Companies Drive Breakout Success – Sean Ellis
Good to Great: Why Some Companies Make the Leap and Others Don't – Jim Collins
17. Lost and Founder: A Painfully Honest Field Guide to the Startup World – Rand Fishkin
Crossing the Chasm: Marketing and Selling High-Tech Products to Mainstream Customers – Geoffrey A. Moore
Measure What Matters – John Doerr
The Mom Test – Rob Fitzpatrick
Communities
Conferences
Podcasts
Facebook Groups
Linkedin Groups
Reddit &Quora Communities
Slack Channels
Other resources