Romanian Venture Report 2022
Mayday? On the contrary…
The sustained growth in transaction volume involving Romanian startups comes as an interesting plot twist in a blurry 2022, considering the turmoil hovering over the global tech scene starting with the year's second half.
This is a signal in itself, but instead of sending an alarm it sends the following message: "Mayday? On the contrary…". The local industry worked in spite of some tough regional and global challenges in the technology space. With the global tech scene's picture in mind, we're not arguing that navigating the past year and beyond hasn't posed any serious challenges for the broader Eastern European region. Still, it seems that Romanian-born startups and Eastern European startups, in general, might be well-equipped to weather the storms ahead.
"Venture deals involving Romanian startups stood up to 2022's strong headwinds coming from the global tech scene and the global economy in general. Coming out of 2022 we see strong signals that deals involving Romania-born startups can actually turn into a much-wanted bet in one's portfolio, to say the least." Alexandru Agatinei, CEO How to Web
These facts don't come as a surprise given the credit that the CEE region has in terms of VC funding's growth, CEE being currently one of the fastest growing regions for VC funding in Europe, with a 7.6x growth since 2017.
"Becoming a successful tech company has more to do with perseverance and the founder's character than about a big idea and inspiration. Founders, their teams, and their backers have to feed their thoughts, take risks with unconventional, creative approaches, and build and promote innovation. In turn, dynamics like the ones we see in the Romanian Venture Report are not just possible, but the successful continuation of an industry in our region on a steep rise." René Schöb, Partner KPMG, Head of Tax and Legal
5 Headlining Findings
01

€102M volume in 2022 and 11% increase compared to 2021

The total volume of deals in 2022 rose near the level of the previous year's volume – €101.7M compared with €116.9M in 2021*. It's worth mentioning that 2021's transaction volume accounts for FintechOS €51M series B.

*For the purpose of this year's comparative analyses against the previous year, we've averaged the number of transactions as well as the transaction volumes for both scenarios of 2021 – accounting and discounting for the FintechOS €51M series B outlier we can average the overall 2021 annual volume to €91.4M and 71 transactions respectively. And when discounting such outliers, this actually means that 2022 outperformed 2021 by 54.3%, with €101.7M compared to €65.9M in 2021.

This supports Romania's 5th position in the top CEE countries by VC funding raised in 2022, mentioned in the CEE Startups 2022 report by Dealroom, coming right after Estonia, Czechia, Croatia, and Poland, which hold 70% of the total volume.

In terms of the total number of transactions, we could also see a slight increase on average by 3.5% from the 71 transactions recorded in 2021 to the 73 transactions in 2022. Moreover, as you'll find out going through the report, the market dynamic of 2022 was more homogenous, and had a better representation of all transaction types, from pre-seed to series A, while it did not showcase major outliers.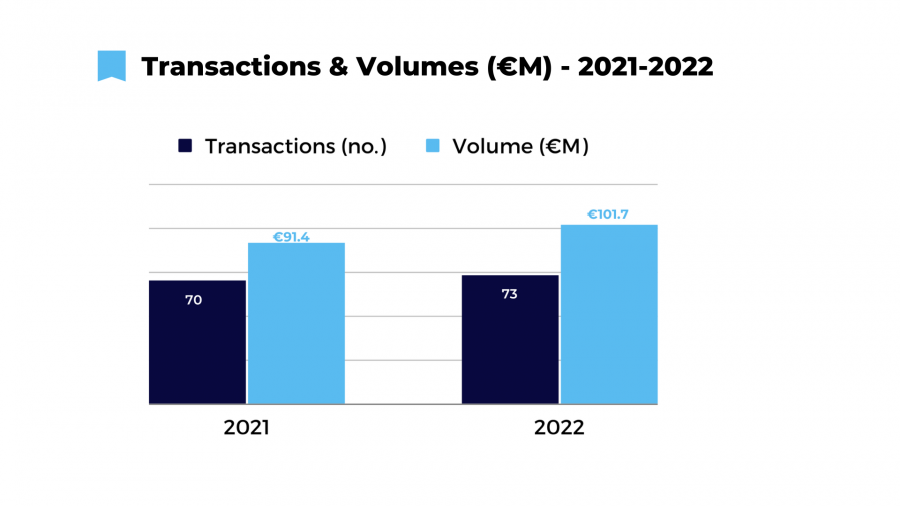 02

12x growth over the last 6 years (2017-2022)

2022 also marked an impressive 12.3x increase in the transactions volume compared to the industry's early beginnings of Romanian VC deals, back in 2017. Thus the yearly volume of venture deals involving Romanian startups went from a modest €8.2M in 2017 to a promising €101.7M in 2022.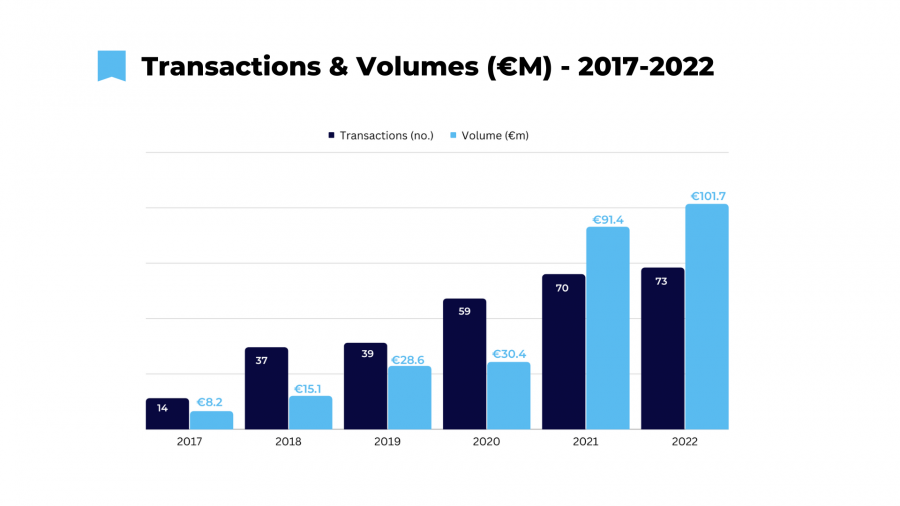 03

Unfreezing Series A. The volume almost tripled compared to 2021

In terms of the investment type breakdown and comparison with the previous year, we've got both good and bad news.

The good news is that 2022 was the most promising year so far in terms of series A transactions for the period going back to 2017 – both in terms of volume and in the number of transactions.

The volume of series A transactions almost tripled compared with the previous year, going from €15.3M in 2021 to €42.6M in 2022. The number of series A transactions doubled, going from 3 in 2021 to 6 in 2022. The first 3 transactions of 2022, Druid, Digitail, and Bware Labs, account for 30% of the total transaction volume of 2022.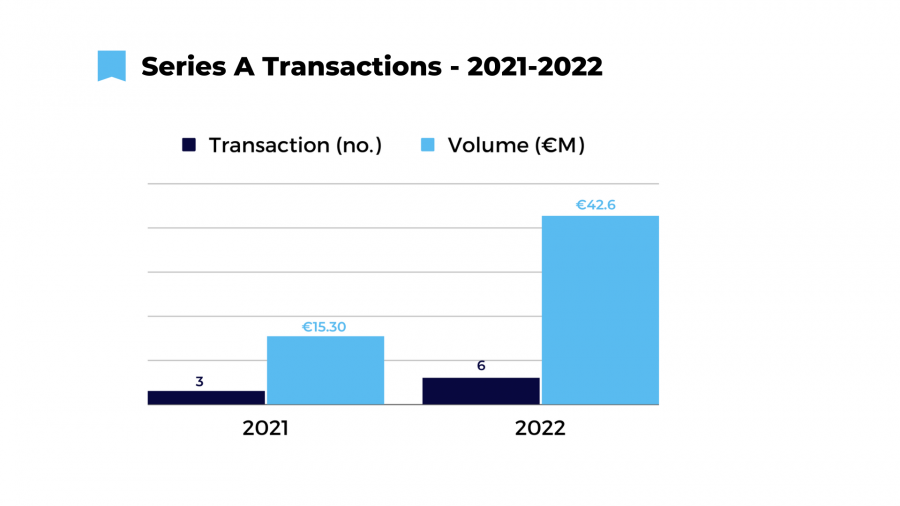 In effect, the average deal size of Romanian-based startups for series A deals increased by 39%, from €5,103.3K in 2021 to €7,095K in 2022.
This is again aligned with the CEE regional trends that showed resilience throughout 2022, especially in the early-stage investment landscape. The Dealroom CEE report indicates that seed and Series A average round sizes continue to increase, with an average of €1.1M in 2022 from €0.8M in 2021 for seed rounds and of €12.5M in 2022 from €9M in 2021 for the Series A rounds.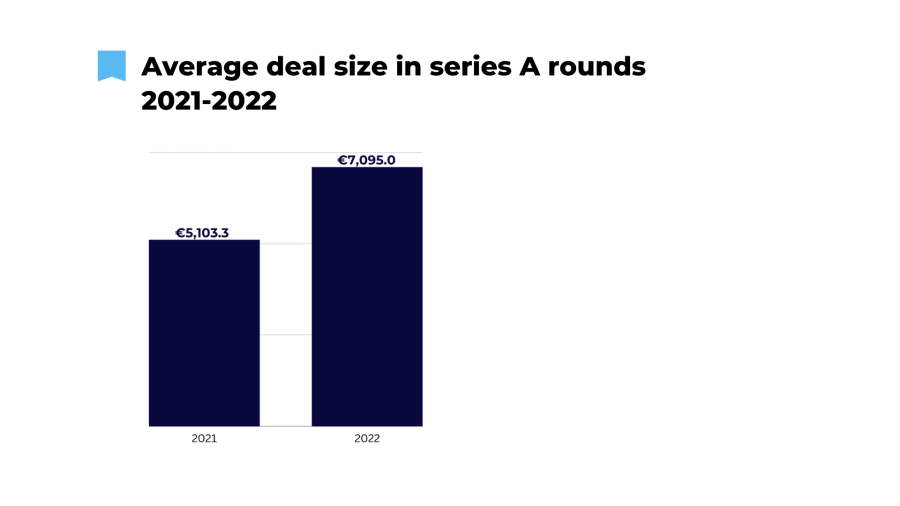 04

Seed volume grew by 29% compared to the previous year

The total volume of seed transactions increased by 29%, reaching €56.4M compared to €43.4M in 2021*.

*Another mention worth making is that for the purpose of this year's comparative analyses against the previous year, we've averaged the number of transactions as well as the transaction volumes for both scenarios of 2021 – accounting and discounting for the FlowX €7M seed outlier (among the largest seed rounds in Europe at that time) – resulting thus in €43.4M transaction volume and 47 transactions respectively.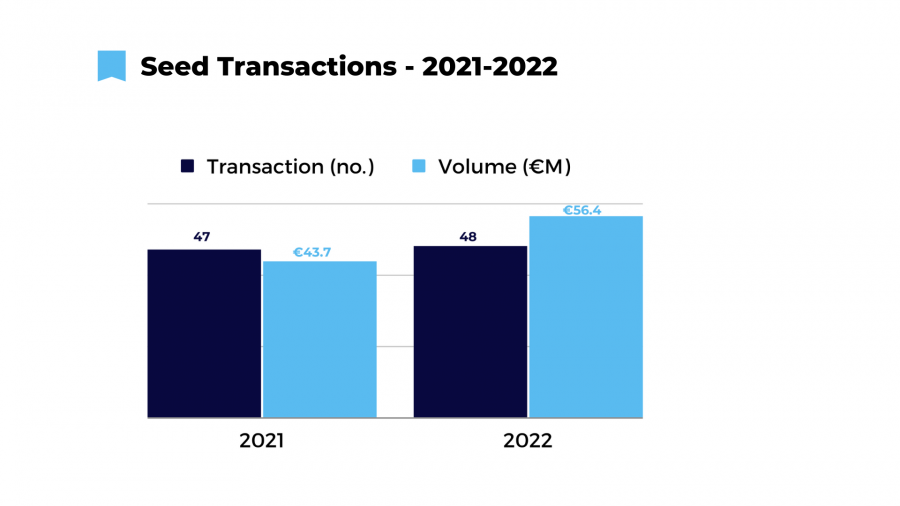 If we remove such outliers, this actually means that 2022 outperformed 2021 by 40.7% in terms of the seed transaction volume, with €56.4M compared to €40.1M in 2021.
In conclusion, when we analyze how the average deal size for seed transactions performed in 2022 compared to 2021 for both scenarios we have either:
a 16.6% increase when we take into account the 2021 FlowX seed round, from €1,007.9K in 2021 to €1,175.5K in 2022
or
an increase of 34.9%, when not taking into account the 2021 FlowX seed round, from €871.6K in 2021 to €1,175.5K in 2022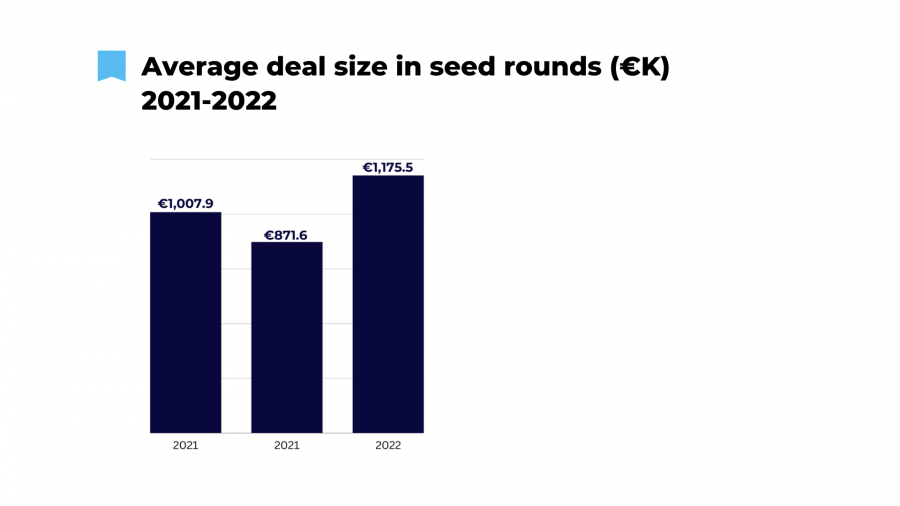 05

Pre-seed volume went down by 16% compared to 2021

Pre-seed volume went down by 15.9%, reaching €2.7M compared to the previous year's €3.3M. The number of pre-seed deals remained similar, from 20 transactions in 2021 to 19 transactions in 2022.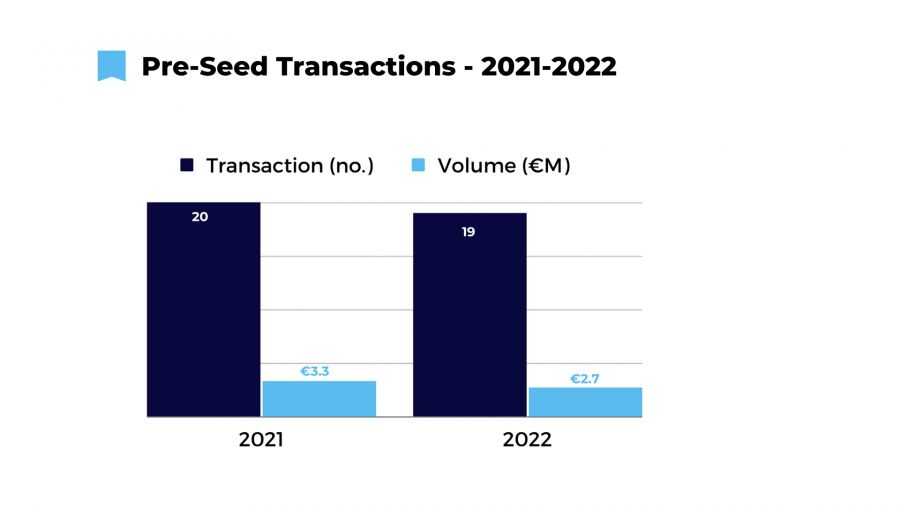 However, the average deal size for pre-seed transactions decreased by 11.5%, from €163K in 2021 to €144.3K in 2022.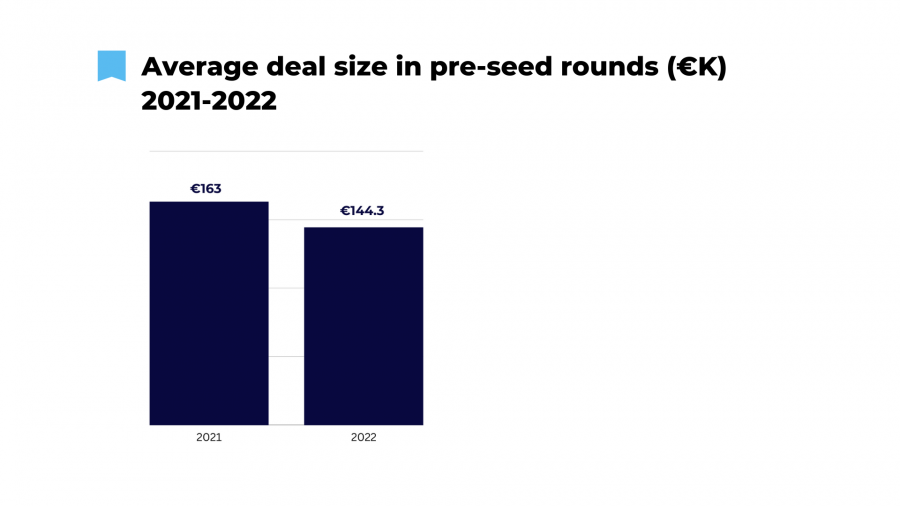 For 2022 we did not record outliers as in 2021's FintechOS €51m series B round or FlowX €7M seed round, but rather bigger rounds and more diverse in terms of the investment type.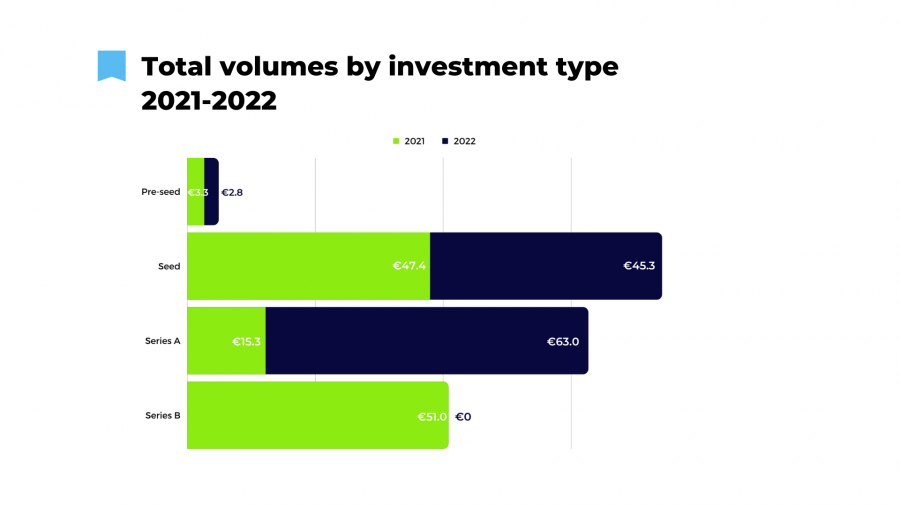 Top Deals of 2022
Wrapping up an overall challenging year with generous capital raised marks our list of companies that are worth keeping an eye on, so here are the top deals of 2022 and some of the rising stars in the Romanian startup ecosystem.
Top deals of 2022 were Druid, Digitail, Bware Labs, Sessions, Bunnyshell, Machinations, NeuroLabs, Cyscale, AdServio, and Ogre AI, making up €51.6M by raising series A and seed rounds, and therefore adding up more than half (50.8%) of the total transaction volume of 2022.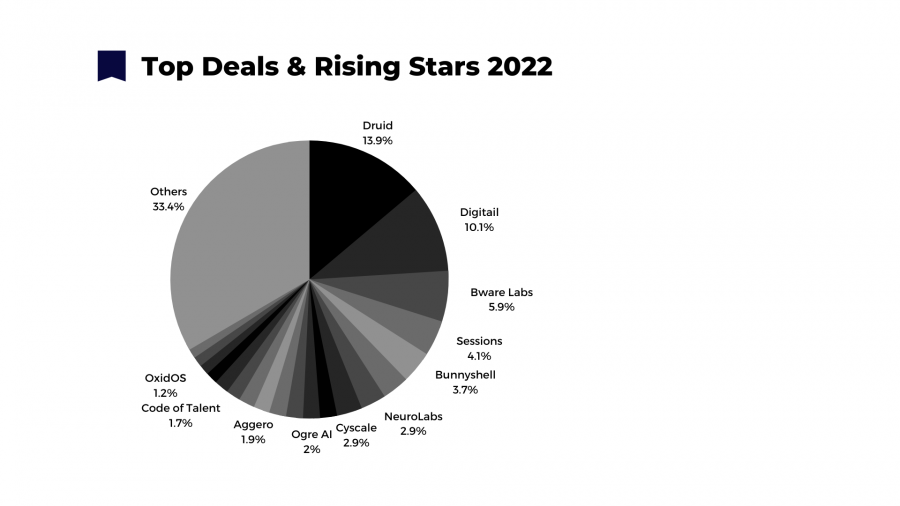 CONCLUSIONS
In order to draw some conclusions and help you draw yours based on the insights you got for the report so far, we've recapped the good, and the not-so-good that came along with 2022.
Download the complete report to tap into the insights.
Download the full report
Get free access to the full report to find out more details about:
First rounds volume
Follow-on rounds volume
Tech prodigies from top deals
Leading industries for investment
The most active investment quarters
Romanian, International & Mixt Capital breakdown
The European and Global state of VC deals in 2022
Polish VC deals in 2022 with the contribution of PFR Ventures
VC funds raised in 2022 and targeting European startups
Investment programs for Romania's VC industry with the contribution of EIF
The entire datasets & extended analyses based on current year and historical data
ABOUT HOW TO WEB
Supporting entrepreneurship and innovation is at the foundation of everything we do.
Every year, through our initiatives such as How to Web Conference, Launch – founders community, HTW Institute, VC in CEE, reports and more, How to Web helps thousands of founders and operators to create better startups, products, teams, with the support of some of the leading tech companies, experts and investors.
Started as one of the most influential Eastern European startup conferences, How to Web has championed over the last decade the regional tech entrepreneurship and innovation scene and has accelerated the adoption of the startup culture through leading events, programs and knowledge.
Acknowledgments
Thanks to this edition's report partners KPMG and KPMG Legal for their trust and support in making this edition of the report happen.
More thank yous go to our industry fellows from The European Investment Fund and PFR Ventures for their valuable contribution brought to this year's edition of the report.
Precious thanks also go to all those whom we've collected from and/or cross-referenced our data with, namely: Activize, ROPEA, Gapminder VC, Early Game Ventures, Roca X, Catalyst Romania, SeedBlink, Hellen's Rock, Underline Ventures, Growceanu, Transylvania Angels Network, Bravva Angels, Sparking Capital, Simple Capital, Cleverage VC, V7 Capital, Fortech Investments, TechAngels, Credo Ventures, LAUNCHub Ventures, Eleven Ventures, Inovo VC, Smok Ventures & more.
And huge thanks goes to you for reading and sharing it with your network!