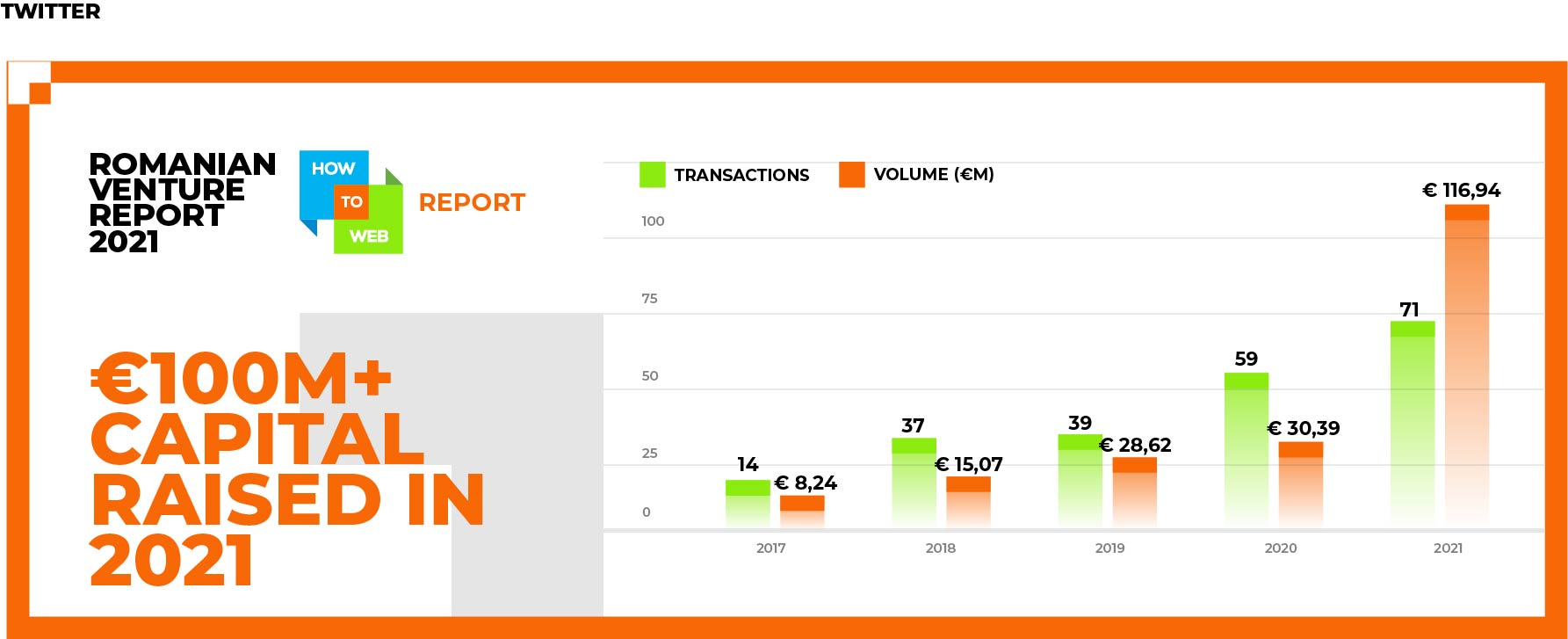 Romanian Venture Report 2021
ARE WE THERE YET?
In 2021 the Romanian venture capital market broke the €100M barrier of venture deals for the first time in the post-UiPath era.
The volume of capital raised in 2021 by Romanian startups has more than tripled compared to the previous year, going from €30M in 2020 to more than €116M in 2021. And this growth pattern has been trending for the last few years.
Looking at the European level, the overall venture capital volume in 2021 passed €100Bn, a nearly 3x growth compared to 2020 levels. Does this European trend apply to Romania as well? So far, so good, but let's take a closer look at the numbers.
The report focuses on last year's venture deals of Romanian startups only. We started this project last year by tracking deals from 2017 to 2020 and we're aiming to continue our analysis of the dynamic and evolution of the Romanian venture capital market.
And while the 2021 numbers could make one open their finest bottle of wine, there's most likely an inner voice we all come across when thinking of the Romanian venture capital dynamics; and that voice asks (almost annoyingly): Are we there yet?
Here's an overview of this year's findings, hold on tight, and we hope you enjoy reading this new report!
The rules for filtering and labeling the data are detailed at the end of the report, along with a link to the full transactions list, and let us know if you find anything that should be updated.Big thanks to everyone who has helped us with putting this year's report, in particular to our industry friends from TechAngels, SeedBlink, Growceanu, Simple Capital, Transilvanya Angels Network, Sparking Capital, Activize, Gapminder VC, Early Game Ventures, Roca X, Cleverage VC, Catalyst Romania, whom we've cross-referenced our data with.
7 exceptional findings
01

Breaking the €100M barrier of Romanian venture deals for the first time in the post-UiPath era

In 2021 we tracked 71 transactions adding to a total investment volume of €116.94M, breaking the €100M barrier of venture deals for the very first time in the post-UiPath era.

The biggest investment of the year was the FintechOS €51M Series B round, which made the Bucharest-based fintech startup reach a valuation of $ 220M.

Even excluding the FintechOS round, the total volume raised has almost doubled from the overall €30.39M in 2020 and grew by 7x from the €8.24M volume of 2017.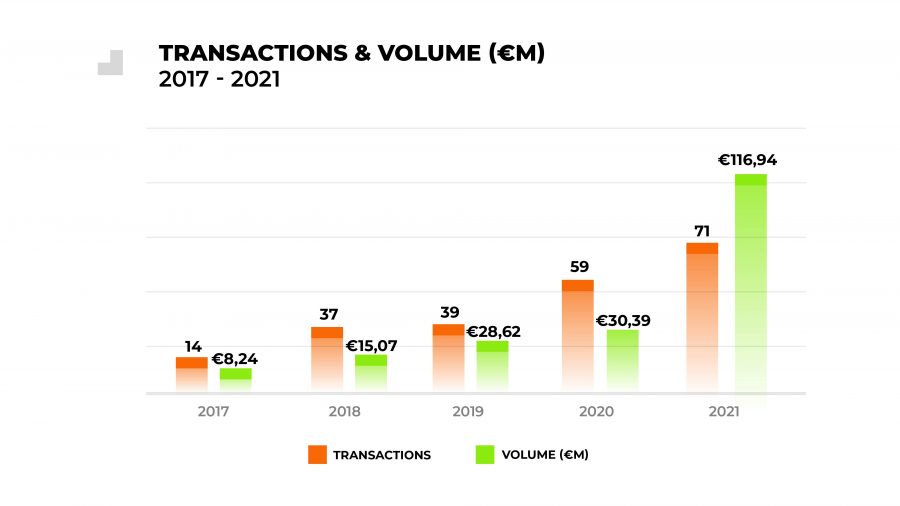 02

First cheques got bigger by more than 80%

Similar to the international venture capital market dynamics, the average size of the first investment rounds has also grown on the Romanian market by 88.8%, from €357k in 2020 to €647k in 2021, all of this while the overall volume showed an increase by almost 70% compared to 2020.

This shows increased investor confidence to finance new projects, and align with the expenses startups have learned to manage well in order to build compelling products and gain initial traction.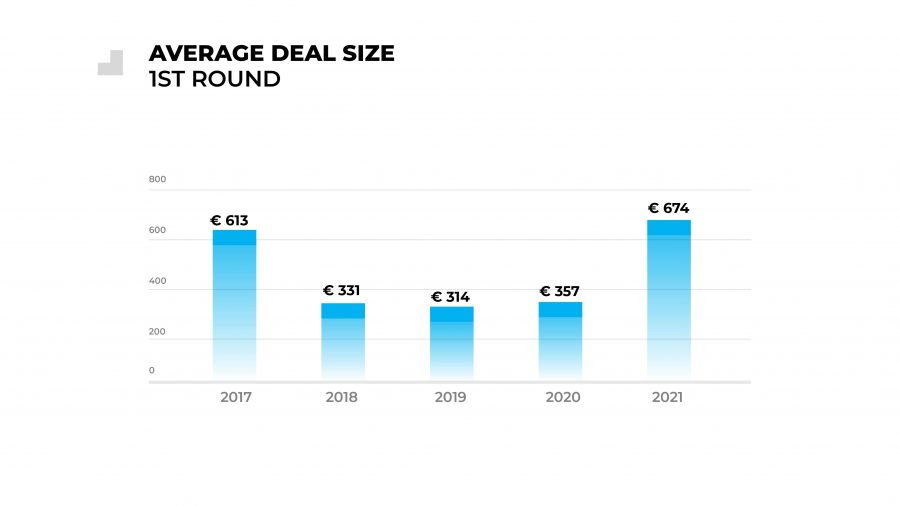 03

Pre-seed and seed deals grew notably both in total volume and average transaction

Notable in regards to 2021's seed stage transactions is their overall volume doubling in size from €21.87M in 2020 to €47.37M in 2021.

Amongst the highlights, we can mention FlowX having raised one of the biggest seed rounds of the year of €7.27M, which hopefully puts the company on track to raise a significant Series A round in the near future.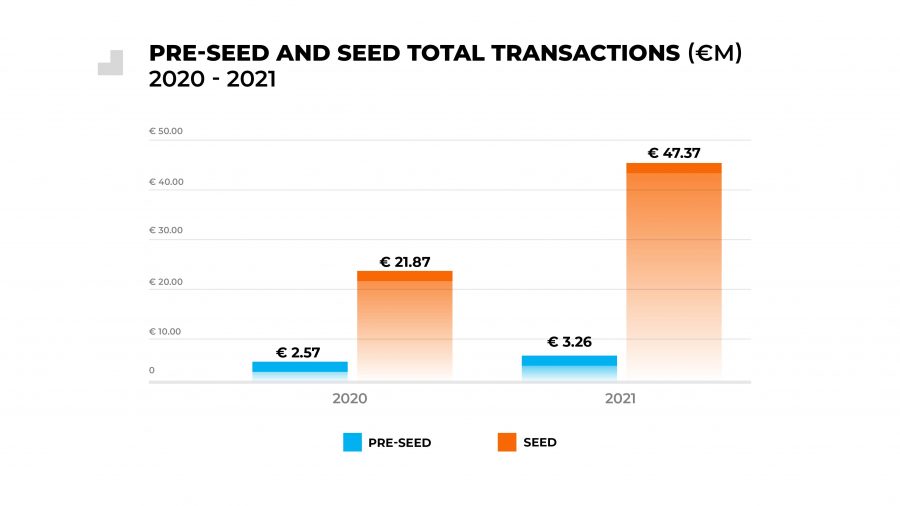 The average amount invested in seed rounds in 2021 has almost doubled in size, going from €591k in 2020 to €1.07M (taking into account the FlowX round).
The analysis also showed a 33% increase in pre-seed average deal round size, from €122.5k in 2020 to €163k in 2021.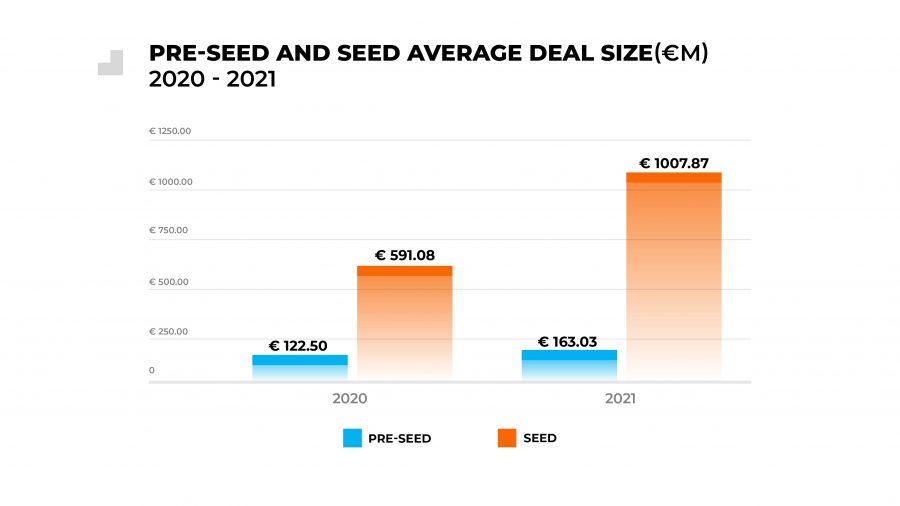 04

Series A funding is starting to warm up

In 2021 we tracked 3 Series A transactions, an increase by 33% in comparison to 2020.

Growth is on the right track, but still lags behind, so we're looking forward to seeing this ramping up in the future.

One notable deal of 2021 was Seedblink's €3.01M Series A round, a great outcome for the company and with the highest amount of Romanian capital out of the three Series A rounds of last year.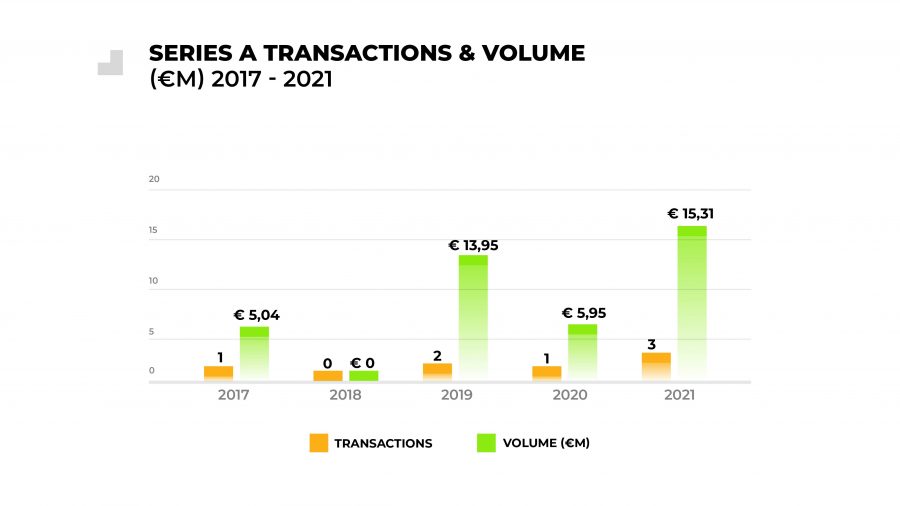 As the average amount of Series A rounds at European level was €11.4M, this shows there's still a lot of room for growth when it comes to accessing capital at this stage.
05

Follow-on investments grew by more than 150%

Even excluding the FintechOS Series B round, the report shows a 157% increase in overall volume of the follow-on funding, from €16.47M in 2020 to €42.35M in 2021.

This is a confirmation that investors also leaned their attention to the wellbeing of their portfolio, which is fantastic news as it comes in times when the founders need all post-funding support they could get as they're scaling up.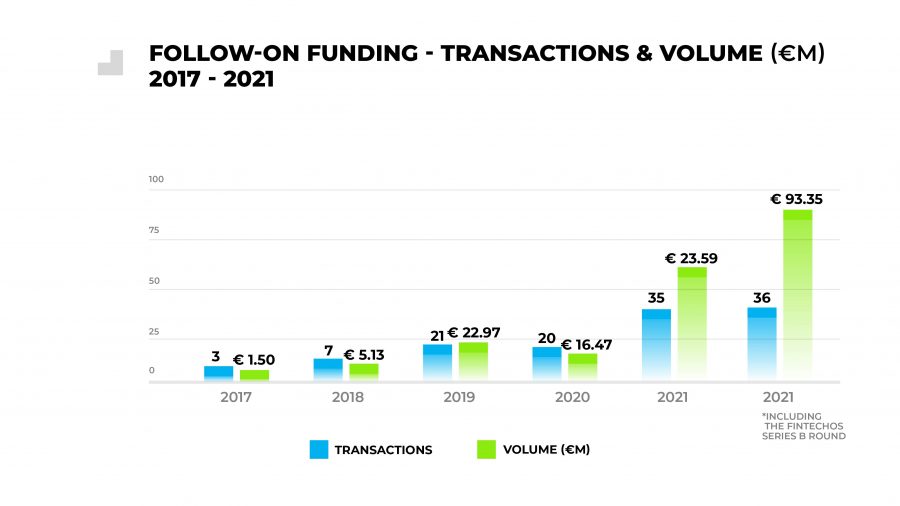 55% of the follow-on deals were made at seed stage, majority with Romanian capital only, totalling a volume of €36.24M, which represents 31% of the 2021 yearly volume.
Here are a couple of highlights on the list of startups that raised seed capital last year: Druid (€2.5M), Kinderpedia (€1.8M), Frisbo (€1.8M), Code of Talent (€1.7M), Bright Spaces (€1.5M) and Questo (€1.5M).
06

Both Romanian and international capital deals broke the ceiling

Investments having Romanian capital went up from an overall volume of €23.32M in 2020 to €43.46 in 2021, while investments with international capital went from €7.07M in 2020 to €73.48M in 2021 (including the FintechOS Series B round).

The 18 deals with international capital we tracked represent a visible increase from 2020, when we tracked only 3 rounds that raised international capital. Out of the 18, 14 were co-invested with Romanian investors.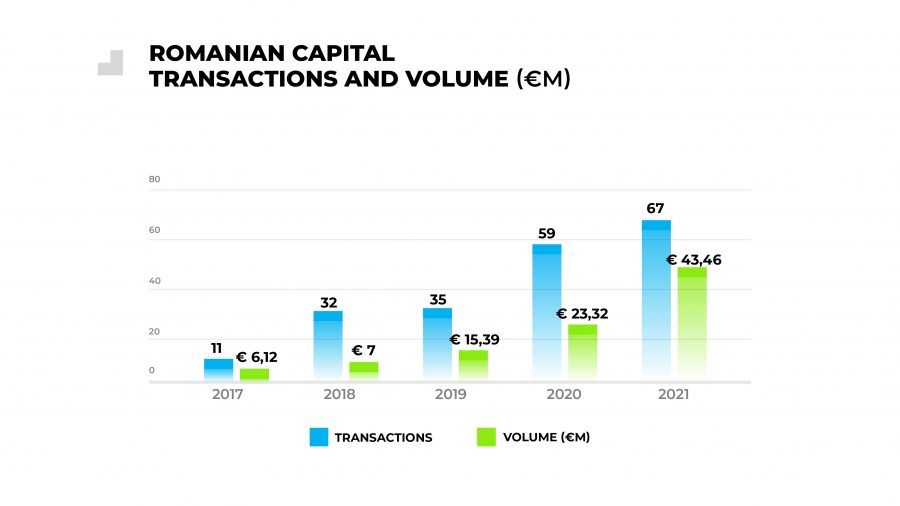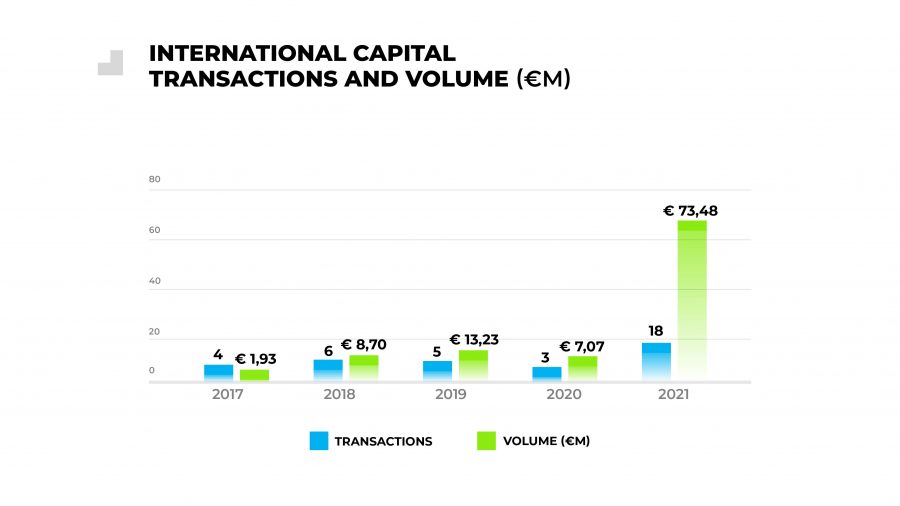 07

Rounds above €1M represented 68% of 2021 investment volume

After announcing their Series B funding round of €51M in 2021, there's no doubt the mega deal of the year was made by FintechOS.

Following their footsteps, here are some of the other teams that raised significant amounts: FlowX (€7.28M), SeedBlink (€3.01M), FameUp (€2.6M), DRUID (€2.5). All in all, in 2021 we tracked 18 rounds with over €1M in funding each, totaling 68% of all transaction volume, with an even Romanian / international capital split.
CONCLUSIONS
In order to draw our conclusions, let's restate the obvious – in 2021 the Romanian venture capital market broke the €100M barrier of venture deals for the very first time in the post-UiPath era.
At first glance one might say it reached quite far, far away, but the annoying voice is still there asking: "Are we there yet?"
So we take a step back and see that the growth recorded by the Romanian venture capital market meets an European growth standard which, according to PitchBook data, states that European startups raised a mind boggling €100.4 billion across 9.419 deals as of December 2021, recording a 115% increase from 2020.
And we add to the previous insight the fact that 98 new unicorns minted from the European market in 2021.
Now looking back at the Romanian venture capital market and its progress, is this enough "get us there yet"?
It is obviously showing good signs of growth and, more importantly, at a constant pace, with an up-going pattern that has been trending for the last few years.
Progress was shown in 2021 by a variety of factors as well, from a chunky 88% growth of the average cheque for first rounds to a wider diversity of round types – it's the first year when the report includes a Series B transaction.
And while looking forward to seeing what 2022's numbers will have to say, How to Web is here to support the development of technology and innovation in the region.
Download the full report
Type in your email address to get the full report and find out more details about:
breakdown of pre-seed / seed / Series A / Series B rounds

breakdown of Romanian / international capital invested

breakdown of 1st time invested startups / follow-on investments

average values of all of the above
ABOUT HOW TO WEB
Supporting entrepreneurship and innovation is at the foundation of everything we do.
Every year, through our initiatives such as How to Web Conference, Launch – founders community, HTW Institute, VC in CEE, reports and more, How to Web helps thousands of founders and operators to create better startups, products, teams, with the support of some of the leading tech companies, experts and investors.
Started as one of the most influential Eastern European startup conferences, How to Web has championed over the last decade the regional tech entrepreneurship and innovation scene and has accelerated the adoption of the startup culture through leading events, programs and knowledge.
THE DATA
There are no perfect reports and there is no perfect set of data. The report is based on public information about investment rounds, and sometimes on informed assumptions. Please assume a 90-95% accuracy of the numbers presented.
You can access all data and stats here: https://bit.ly/HTW-romanian-venture-report-2021
Here is how you should look at the data and stats and what were the main criteria for keeping a startup on our final list of transactions or not. The data was filtered and labelled based on the following set of rules:
We tracked only equity investments of companies with Romanian headquarters.No grants, loans, convertible notes, buy-outs (etc.) were included in the final list of transactions. We didn't include deals that are committed but not signed yet or still in progress (on crowdfunding platforms for example). We did add bridge rounds, but we tagged those as "follow-on".

All equity investments with no public value have been eliminated. Their number is small and, while it affects the totals, it does not affect them significantly.

Investments with no specified investors were also not included, as many of those are actually grants, service payment etc. and not equity investments.

There's more capital to be added via grants, private and institutional undisclosed VC and angel rounds or money committed but not wired. We didn't add these to the overall calculations, in order to keep the total volume accurate, but if we were to track extra deals, we could spot 52 additional startups that add an additional €21.49M to the capital raised, increasing the 2021 overall investment volume to €134.1M and to over 130 Romanian startups that raised capital in 2021.

We focused primarily on companies with Romanian headquarters, not only with Romanian founders. The list of transactions does not include investments in foreign startups with Romanian founders. However, we did make a couple of exceptions.

All transactions listed in EUR or converted into EUR if the original transaction was made in a different currency.

Transactions up to €200k were tagged as pre-seed rounds, all transactions between €200k and €3M were tagged as seed rounds, and everything above €3M was tagged as a Series A round. Exceptionally, some transactions above €200k were tagged as pre-seed based on timing of the round and conversations with the founders about the objectives for the round. Also, investments smaller than €3M were tagged as Series A rounds as the companies were expanding on the regional market. Using this classification, some companies have raised multiple pre-seed and seed rounds, if the total capital raised was not over €200k, respectively €3m.

Splitting capital between investors in a transaction was made using the simple rule that the lead investor contributes 80% of the capital, while the co-investor with 20% of the capital. While this is in no way an exact approximation, it is definitely in the ballpark. The only exception to this rule we made was FintechOS or which we used a 90/10 split.

One difference of this year's report is that we made a split attribution of capital volume by Romanian (13.3% or €15,54M) / international (31.2% or €36,62M) / Mix (55.5% or €64.77M).
Thanks for reading!
And do let us know if you find anything that should be updated.